Multicultural festival "Fiesta Mundial" with local minorities
Country:
Belgium - Flemish speaking
Topic:
12: Art, culture and local history
Work Types:
Festival / Cultural heritage / Manual
Free places for Males:
-1
Free places for Females:
-1
Free places last update:
26 Aug 2019
International age:
18 - 99
Required Language:
English
Spoken Language:
Dutch, English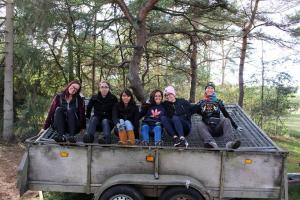 Description: Fiesta Mundial is a world party in the true sense of the word. Long time ago a young man and woman wanted to organize a cultural event to raise money for development of projects in the South, and to show the different cultural parts in a gathering. It is a music festival, which takes place in a recreation park, including screenings of world cinema, music performances with authentic and popular ethnic music, as well as street animation, lots of workshops and a multicultural market. Fiesta Mundial only works with volunteers. We would like to carry out the spirit and atmosphere of multiculturalism of the festival even during the build-up. Apart from the workcamp volunteers, also people of local minority groups will be involved in the work. Check out the website: http://fiestamundial.be/
Type of Work: The work will be very divers: Before the festival: pulling up tents and fences, laying wooden floors, building podiums, decorating the tents and the festival grounds, organising water and electricity supplies, signalisation... During the festival: helping with the catering for the artists After the festival: pulling down the tents, cleaning the site and putting everything back in order.
Study Theme: History of the festival, it's background, philosophy, core ideas, target group, reason of being, … Third world projects which are supported by Fiesta Mundial Local, working with local less-favoured groups.
Accommodation: You will sleep in the club house of the girl guides in Wezel, about 2 miles from the festival site. There are bicycles. We can make use of the spacious, heated rooms, showers, toilets. There is a large kitchen with the necessary kitchenware, moreover, there is also a large playground. To sleep we maintain solid folding beds. Be sure to bring a sleeping bag, sheets for a single bed and a pillow.
Language: During the camp English and Dutch will be the common languages
Requirements: Being open-minded with respect for the environment Flexible attitude, being prepared to co-operate and to do all kinds of jobs that need to be done to build up and break down a festival. Be able to ride a bicycle. Like to work together with all kinds of people. As you know the weather in Belgium is unpredictable, so bring a rain jacket and some warm clothes.
Approximate Location: Balen, 60 km east of Antwerpen
Notes: www.fiestamundial.be
Organization Description: VIA is a pluralistic non-profit organisation. Its core business is intercultural exchange through voluntary work.VIA organises short term exchanges in voluntary projects in more than 100 countries around the world. All programs are open to all. VIA is the Flemish branch of Service Civil International.