Organizing activities in the Asylum Seeker Center in Rixensart
Country:
Belgium - French speaking
Topic:
2: Refugees, immigrants and ethnic minorities
Work Types:
Work with children / Social / Sport
Number of places still available:
0
Free places last update:
04 Jul 2019
International age:
20 - 99
Required Language:
French
Motivation letter:
This camp requires an additional motivation letter to explain in more detail why you would like to attend.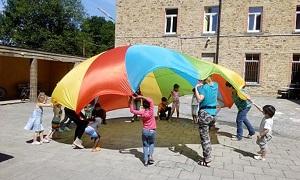 Description: The Centre for asylum seekers in Rixensart is an open centre for people who have asked for asylum in Belgium. Its main tasks are to feed, accommodate and provide social and medical aid to asylum-seekers. The asylum seekers stay in the centre during the whole 1st stage of the procedure (4 months at least). The centre hosts nowadays 170 people (mostly families and minor mothers with their children) and is located in the residential area of Rixensart. The residents have few opportunities to distract themselves. The aim of the workcamp is to encourage intercultural meeting between the volunteers and the residents of the center, and to offer leisure activities to the residents.
Type of Work: The volunteers will propose activities for the residents of the centre (mostly kids, and young mothers): art workshops, games, sport, visits, cook… Volunteers can propose activities related to their preferences, skills or in which they feel comfortable.
Study Theme: Migration issues and asylum procedure in Belgium.
Accommodation: Volunteers will sleep in large dormitory of the centre.
Language: Good knowledge of French required because some of the asylum seekers don't speak English.
Requirements: To be 20 years old and over. Fill the extra motivation form. To enjoy working in teams and playing with children and have done it in the past. Artistic and musical skills are an asset. The workcamp can be psychologically tiring.
Approximate Location: Rixensart is a charming little town located approximately 20 km from Brussels.
Notes: Not accessible to wheelchairs. For your information, the budget granted to the Centers for Asylum Seekers was drastically reduced in 2014. Volunteers are then encouraged to realize activities at a lower cost and those who want are welcome to bring material with them. Also, residents receive 5 euros per day to cook for themselves. The group will have to eat in the same conditions and will think about how to organize themselves at the beginning of the camp. The budget for the food is very restricted, which can be an issue for some volunteers (very simple food, not much variety). Please take some food with you if you think it can be a problem.