Topic:
10: Environment protection
Work Types:
Environment / Manual / Restoration, renovation
Free places for Females:
0
Free places last update:
19 Jun 2019
International age:
18 - 30
Required Language:
English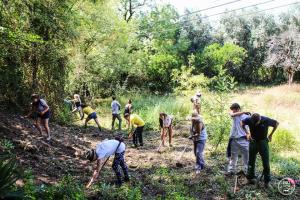 Description: Specific objectives:
Restoration of a degraded water mill at Rio Caima (and public presentation of work done to the local community);
Participants will perform field tasks but also learn about nature conservation and engage in conservation-training activities, while getting to know the Portuguese fauna and flora;
Litter gathering; cleaning walking trails; controlling invasive vegetation;
Participants will also contribute to prevent forest fires by controlling shrubs and invasive vegetation.
Type of Work: - Restoration work of a degraded water mill (cleaning, stone washing, building the roof, etc);
Vegetation trimming and removal;
Litter gathering and cleaning of walking trails;
Improvement of local fauna, flora, and landscape;
Building nest-boxes for birds and bats;
Planting trees;
Encouragement of international exchange and exchange of experience;
Presentation and discussion of the natural and social reality of the regions of origin of the participants;
Promotion of environmentally and socially responsible attitudes and values;
Development of action-training actions focused on individual and collective learning
Accommodation: Participants will sleep in a school of Albergaria-a-Velha, in shared rooms with beds. There will be several separated rooms for boys and for girls. The school has a sports locker room with hot water showers also separated by gender. The organization will provide breakfasts, lunches and dinners. Lunches and dinners are prepared/cooked by the municipality's staff and served at a canteen, but some lunches will be served in the field (sandwiches, fruits, etc.).
Requirements: High sense of citizenship and environmental protection.
Will to work for nature protection and improvement.
Will to learn and share nature protection techniques and good practice.
Language skills (English preferable, but also Portuguese, Spanish or French).
Always be punctual.
Always respect others' opinions.
Will to interact with local community.
Approximate Location: Albergaria-a-Velha