Topic:
12: Art, culture and local history
Work Types:
Art / Festival / Manual
Free places for Females:
0
Free places last update:
16 Jul 2019
International age:
18 - 30
Extra fee to be paid in the hosting country:
0.00 Euro
Required Language:
English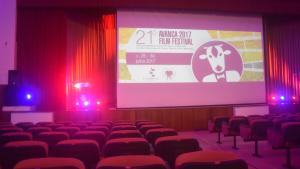 Description: Volunteers in this work camp are involved in various levels of the organization, providing a determinant support for the success of this International Meeting. Being AVANCA an idea sharing favored space, creative fusion and cultural interchange between, professionals, students and cinema and multimedia lovers, IWC volunteers will naturally participate and dive in this international, culture and creative atmosphere.
To moments dedicated to cultural animation and discovering of surroundings, Cine-Clube de Avanca offers a set of activities, which will give an insight of the social realities, cultural and gastronomical, between others, from the village of Avanca and the region that extends between the cities of Aveiro and Porto
Type of Work: Sinalethic setting for the different spaces in AVANCA 2019;Poster and pending poster distribution;Exposition setting and Organization; Adaptation of the EB23 Egas Moniz school classrooms for workshops attainment; Cleaning and preparation of the Auditorium of Avanca for competitive sessions of Cinema and Video; Check-in support for the AVANCA 2019 participants and guests; maintenance of the Workshop rooms; Cantina support; AVANCA 2019 Secretariat support; AVANCA 2019 Press Cabinet Support; AVANCA | CINEMA Internacional Conference Secretarial support; Collecting and verifying workshops' equipment; Reposition of the used spaces on their initial configuration and cleaning of the same spaces; Collecting the material of the expositions and wrapping the exposed works;
Accommodation: Lodgment will be in tents in a specific place of Egas Moniz School, in Avanca. School cook will provide meals. Some of these meals will take place in restaurants of Avanca.
Requirements: Volunteers can only leave the camp after request and authorization of the responsible staff.
Approximate Location: Avanca, in Aveiro district in Center of Portugal