Art of living II (Monar Wyszków, near Warsaw)
Topic:
5: Poverty and social injustice
Work Types:
Manual / Social
Free places for Females:
0
Free places last update:
09 Jul 2019
International age:
19 - 99
Extra fee to be paid in the hosting country:
0.00
Required Language:
English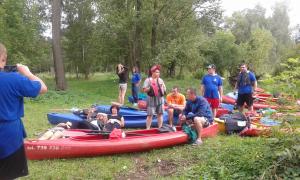 Description: SCI Poland has been successfully co-operating with Monar for 20 years. Monar is the largest Polish NGO dealing mainly with drug addicts. Monar runs 30 rehabilitation centres in different parts of Poland. The center in Wyszków is situated 50 km from Warsaw in a small, quiet town, next to the river, among fields and forests. In the centre there are around 30 patients, between 18 and 30 years old, coming from different backgrounds and areas of Poland, who work and live together undergoing a group one-year long therapy. Beside dealing with daily life activities we use many different artistic, sport and outdoor events, volunteering in social centers for children, theatre etc. as tools of therapy and rehabilitation. We also have horse stables and use hippotherapy.
Type of Work: The main task of volunteers is to socialise with the community, by helping them in their everyday work (gardening, cleaning, working in the kitchen, renovating etc.) and taking part in leisure time activities with them. Games, camp-fires, sport activities, workshops with/for the residents will bring fresh energy and relaxation to the center. Depending on your willingness, you can take part in hippotherapy or go with our patients to visit children in sociotherapeutic centres. It is possible that for a few days during the workcamp volunteers will go together with the patients on a camping trip to the area near the sea/lakeside.
Study Theme: The problems of drug addiction, anti-drug therapy. Learning to live in a new, different way. Horse riding and possibly canoeing.
Accommodation: In the house of the community, in one or two rooms. Please bring sleeping bags with you!
Language: English
Approximate Location: 50 km from Warsaw.
Notes: No drugs, no alcohol. Smoking allowed. Vegan food is not available.