Country:
Russian Federation
Topic:
10: Environment protection
Work Types:
Environment / Festival
Number of places still available:
1
Free places last update:
14 Jun 2019
International age:
18 - 99
Extra fee to be paid in the hosting country:
30.00 Euro
Purpose of extra costs:
The extra fee will help the local hosts to cover food expenses.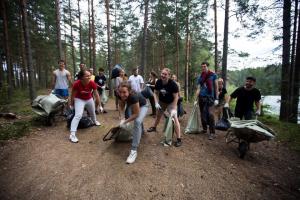 Description: International volunteers will cooperate with students involved in environmental voluntary work in order to exchange with the best practices, develop solidarity and mutual understanding between young people from different countries. The project is organized by ITMO University in St. Petersburg. It`s one of the leading Universities in Russia in the field of information and photonic technologies. Together with high level educational work University provides students with opportunities for social life. There are student government, student ecological group and voluntary organization dealing with different social issues. This camp will be a new step in development of voluntary movement in the University.
Type of Work: Volunteers will work outside of the city in the University educational sports Center for students «Yagodnoe» (100 km from St. Petersburg). Volunteers will be asked to implement the following tasks:
Landscape project in the Center (make flowerbeds, build a bonfire spot, etc.)
Cleaning campfires in touristic places;
Collecting and recycling garbage in the touristic area in the woods;
Pines planting;
Preparing an ecological festival, designing exhibition stands.
Eco-festival will be organized for citizens of Saint-Petersburg and gather around 300 people. The festival includes lectures on eco-friendly lifestyle, recycling, sports training in nature (acrobalance and yoga), workshops on making natural cosmetics and jewelry with their own hands etc.
Study Theme: Volunteers will take part in lectures on medicinal plants and ecological features of garbage collection. There will be an exhibition during the festival which will demonstrate the principles of separate collection of waste, alternative energy sources, reasonable consumption, and others.
Accommodation: Volunteers will stay in wooden houses in the rooms for 2-3 persons. Showers and toilets will in separated houses. Lunches and dinners will be provided by canteen (Russian traditional food). Your dietary needs will be taken into consideration if communicated in advance. Аlcohol is not allowed. Some meals will be prepared by ourselves, using ingredients offered by Saint-Petersburg food-sharing community. Facilities: linen included, no WiFi, no washing machine, no lockers, no shops in the camp
Approximate Location: Settlement Yagodnoe, 100 km from St. Petersburg.
Notes: games, sport activities (climbing, ropes course, boating), treasure hunts, etc.; excursions to St. Petersburg, visiting world-wide famous historical sites and museums