Country:
Russian Federation
Topic:
10: Environment protection
Work Types:
Construction / Environment / Manual
Number of places still available:
2
Free places last update:
03 Jul 2019
International age:
18 - 60
Extra fee to be paid in the hosting country:
0.00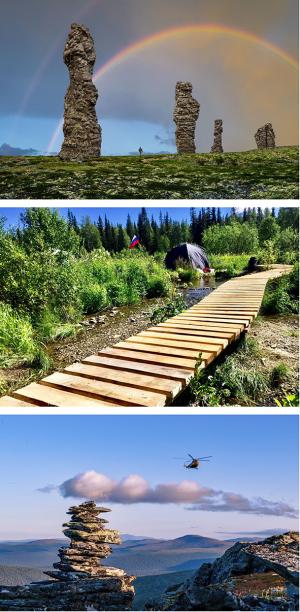 Description: The Seven Strong Men is another name for the Manpupuner rock formations. It is a geological monument in Pechoro-Ilychskiy Natural Reserve, which represents a set of 7 stone pillars located west of the Ural mountains. Their name in the Komi language means "Mountain of idols". The height of the rocks varies between 30 and 42 metres. About 200 million years ago at the location of the stone pillars there were high mountains. Rain, snow, wind, frost, and heat gradually eroded the mountains. It's a unique place which is further than 100 km from any habitat village or roads. Currently, this place is considered one of the 7 wonders of Russia which brings a lot of illegal tourists who destroy the soil, making new walking paths which makes more marshes and destroys local flora.
Type of Work: Attention: work is going to be quite intense and physically demanding.
Volunteers are going to build wooden walking paths to protect the soil and develop tourist infrastructure (poling, woodwork, working with a shovel). The working day is 8 hours (starting at 6 am with a 3-hour lunch break). Volunteers will be carrying wood and working materials (2-5 km) themselves and walking for 20-25 km during the whole camp. There will be 2 days off when the volunteers can hike to the Manpupuner.
Accommodation: The tents (1 per 3 persons) will be provided. If you want to stay individually, please bring your own tent. You will be able to shower in a special hiking type of sauna every two days. The food will be cooked on a bonfire. The group leader will have a sat phone for emergency situations.
Requirements: You have to be physically strong and healthy, as the work is going to be physically demanding and you will have to walk a lot, carrying things. There will be a shooting of a documentary movie about volunteering in that region, so you should be ready for it or at least be ready to not mind the camera :)
Approximate Location: the Pechoro-Ilychsky Reserve, north-west of the Ural mountains
Attention: you will have to be in Perm at 4 am on the 21st of July. Then you will be taken by bus to Nyrob. From Nyrob you will be taken to the campsite by a helicopter. The transfer (bus+helicopter) will be provided free of charge.
Notes: Please be ready to cover extra night in a hotel and food in Nyrob in case of helicopter flight delay due to bad weather. Although, it's very unlikely at this time of year.
Don't miss this once-in-a-lifetime opportunity, as this place is very difficult to access if you are a regular tourist!