Summer Camp @ Porto - APPC
Topic:
9: People with disabilities
Work Types:
Work with people with disabilities / Social
Free places for Females:
0
Free places last update:
02 Jul 2019
International age:
18 - 50
Extra fee to be paid in the hosting country:
0.00 Euro
Required Language:
English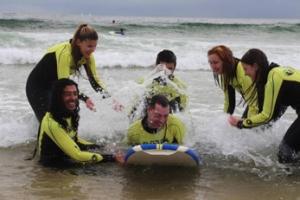 Description: APPC is a non profit organization that supports and promotes the integration and autonomy of people with disabilities. Every year, the organization offers summer camps to their members that aim to promote social inclusion and cultural activities.
Type of Work: Volunteers will work with young adults with at least 16 years old and assist them on the daily activities. They will participate with them on social, cultural and sports activities. Also, volunteers will be encouraged to be part of a good social environment based on mutual help and to contribute to the personal growth and self-esteem of the participants.
Study Theme: Volunteers will learn about social inclusion and how people with disabilities come over through daily challenges. They will have also the chance to learn more about APPC's work and will have the opportunity to visit the beautiful city of Porto and to do some cultural programs.
Accommodation: Volunteers will stay in APPC's houses, with the members, and share daily activities with them.
Language: English, Spanish and Portuguese
Approximate Location: Porto, Portugal
Organization Description: Para Onde is a Lisbon-based organization that is mainly focused on promoting social inclusion through volunteering. It was born in 2014 as an informative website and, at the end of 2016, it became an active NGO. Para Onde will allow everyone to have the experience to volunteer abroad despite age, budget and professional background/experience. Suitable training will be guaranteed to all those departing on an experience with SCI International.