Topic:
11: Climate and sustainable lifestyle
Work Types:
Agriculture / Environment
Number of places still available:
0
Free places last update:
20 Jun 2019
International age:
18 - 99
Extra fee to be paid in the hosting country:
0.00
Required Language:
English
Child friendly camp
Yes (Minimum age: 0)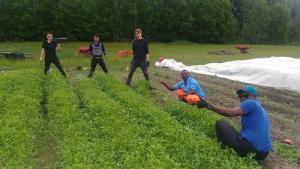 Description: Herttoniemi Food Co-op is the first community supported agriculture project in Finland. It is a co-op of about 200 members that grows organic vegetables on a 3,5-hectare field in Vantaa, close to Helsinki, with the help of a professional gardener. It is also possible to order other kind of organic and locally grown produce via the co-op. One aim of the project is to spread knowledge about community supported agriculture in Finland, but the camp is a chance to spread this knowledge more widely.
Type of Work: The volunteers will work on the field with weeding, watering, planting and building.
Study Theme: Community supported agriculture and urban gardening as means for future food production. A study trip to Helsinki's urban gardening sites and community gardens will be organized.
Accommodation: The volunteers will sleep in shared rooms and have shared bathrooms. They will be have mattresses on the floor, but own sleeping bags are needed. Some of the meals are provided for the volunteers, but in weekends and morning/evening the volunteers will shop ingredients and cook their meals themselves.
During weekends and evening volunteers can visit Helsinki or other nearby locations, there is also possibility to go swimming and visit a local national park.
Language: English
Approximate Location: Vantaa