Community art and art camp for kids
Topic:
7: Children and youth
Work Types:
Art / Festival / Work with children
Number of places still available:
0
Free places last update:
22 Jul 2019
International age:
18 - 99
Extra fee to be paid in the hosting country:
0.00
Required Language:
English
Motivation letter:
This camp requires an additional motivation letter to explain in more detail why you would like to attend.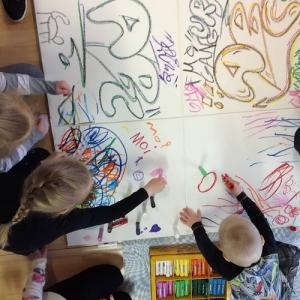 Description: The culture organization Kuvio is a local organization aiming at improving the presence of culture in everyday life on a local, national and global level. In August they are organizing an art camp focusing on community art and art sessions for kids and young people as part of the organization's children's culture center activities. By organizing the workcamp, the organization wishes to create an international and multicultural spirit for these events.
Type of Work: The volunteers will help with organizing the week of events and the art sessions for kids and young people as well as the community art sessions. In addition the volunteers will help prepare materials for the Market of Possibilities event, which is coming in September.
Volunteers will also be responsible of cooking for themselves.
Study Theme: Art with kids and community art.
Accommodation: The volunteers will sleep in a shared space (mattresses on the floor) in a cottage with separate spaces for men and women. Bathrooms are on the outside of the cottage. Volunteers need to bring their own towels and sleeping bags.
There is space for yard games and possibility to go to sauna and swim.
Requirements: Motivation letter and criminal record extract (to be delivered before place is confirmed, can be max 6 months old).
Approximate Location: Forssa, Southwestern Finland