KOMOK CAMP: young leaders - 1
Country:
Russian Federation
Topic:
7: Children and youth
Work Types:
Work with children
Number of places still available:
0
Free places last update:
24 May 2019
International age:
18 - 35
Required Language:
English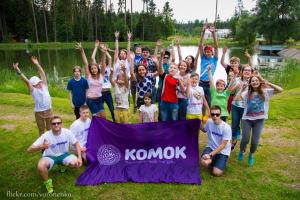 Description: Come to volunteer to a creative development camp with unique thematic programs for different ages! Each program has its own style and motto, and most importantly - the theme that connects all days in a single lump. Each two weeks are full of activities - workshops, arts, music, dance, trainings and sports. The program for children of 7-12 years this year is called "Young leaders" and has three topics depending on the time. The first topic is called «Fantastic Beasts»: discovering aliens, bigfoot, dragons and unicorns. Only in this part the scientific laboratory of programming with the course on how to create a mini 2D games and applications will be created.
Type of Work: Volunteers will take the duties of tutors' assistants and help children with studying, play with them and conduct workshops, conduct conversation classes and all in all motivate young learners to learn English. It would be helpful to bring some games/ideas for activities from your home country.
Study Theme: Volunteers will participate fully in the daily life in camp, take part in all activities and communicate a lot with other trainers, teachers and tutors. Excursion around Moscow will be organized for them.
Accommodation: In the same facilities as children, in the main center building (2-3 persons per room). There are all necessary facilities, Wi-Fi zone. Three meals per day are provided in the canteen (vegetarian diet is possible).
Language: A good command of English is required (min. B2).
Requirements: You will need to submit a medical certificate.
Approximate Location: Recreation center "Podmoskovie", 12 km from Moscow. Meeting at the airport, transfer to the camp and back.
Notes: You can choose to participate in two or all three 2-weeks projects with this kids camp in a row.
Organization Description: Non-governmental and non-profit making organisation "Passage-Zebra" is active in Russia since 1998. Main fields of activities: international workcamps (in Russia), long-term volunteering in natural preserves and parks, study projects with language learning and teaching (including Russian language), building cultural bridges.