Traditions and modernity in Eco-park
Country:
Russian Federation
Topic:
11: Climate and sustainable lifestyle
Work Types:
Agriculture / Manual
Free places for Females:
0
Free places last update:
24 Jul 2019
International age:
18 - 99
Extra fee to be paid in the hosting country:
0.00
Required Language:
English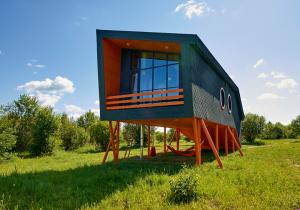 Description: Our eco-park is a place for rest, work, development and just real Life on earth. The main words in the Eco-park's vocabulary are Creation, Beauty, Silence, the Presence and there are particular reasons for it! On the territory of 500 hectares the culture of agro-tourism and real rural life are developing, with active recreation, healthy nutrition, creativity, as well as research and implementation of the most advanced technologies of green architecture and construction. It is is a true modern Russian village, where there is place for community living, sharing, meditating and harmony.
Type of Work: Main duties of volunteers will include help in the organic garden: picking berries and wild herbs/tree leaves; preparation of organic fertilizer (manure of cattle, goats, horses, poultry) and its introduction into the soil to increase fertility; training for those wishing, methods and techniques on beekeeping with honey tasting; assistance in taking care of horses and a llama.
Study Theme: There are a lot of possibilities for leisure time on the territory of eco-park: swimming in the pond, walking around the field and huge territory with interesting art objects, walking around the farm (horses, llamas, goats, cows), horse riding, a tour to the local cheese factory, spending time in lounge area with board games, books, bike trips, Russian sauna, movie nights and just chatting with the locals!
Accommodation: Accommodation in glamping (from "glamorous camping") with all facilities. On the territory of eco-park there are several Wi-Fi spots. Farm natural food in the restaurant is provided (vegetarian diet is possible).
Requirements: Be ready for manual labour and the pleasure of living in a modern Russian village! ;)
Approximate Location: Tula region, near the Oka river, 120 km from Moscow.
Organization Description: Non-governmental and non-profit making organisation "Passage-Zebra" is active in Russia since 1998. Main fields of activities: international workcamps (in Russia), long-term volunteering in natural preserves and parks, study projects with language learning and teaching (including Russian language), building cultural bridges.