Get Involved in Odolena Voda
Topic:
13: Community life
Work Types:
Construction / Environment
Free places for Females:
1
Free places last update:
09 Aug 2019
International age:
18 - 99
Extra fee to be paid in the hosting country:
0.00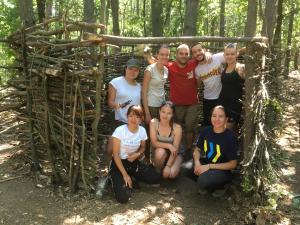 Description: The workcamp takes place in a small town of Odolena Voda in cooperation with the local municipality. The town hall aims at creating good conditions for living, working, spending free time and enjoying the environment for its inhabitants. The main focus is on landscape regeneration and leisure time activities, such as social and cultural events or sports facilities. The aim of the workcamp is to help with renovation of the public space in the town, to create new play structures for children and maintain local green areas. This year, the workcamp will be organized for the 5th time.
Type of Work: The work will manual and it can be physically demanding, so get ready for some hard work. The tasks can include: creating simple play structures for children from natural materials and maintenance of public areas (painting fences etc.). You will also work in the local green areas to make the places attractive for locals by creating paths (e.g. by cutting grass or branches), by marking paths and collecting garbage. You will also paint municipal composters and turn them into a piece of art in the street. A lot of work will be done outside in all kinds of weather, please bring solid shs.Study part: Meeting the locals (e.g. local firemen), getting to know the local culture.
Accommodation: In the local primary school. A kitchen, a bathroom and the gym will be available. You will sleep on gym mats in classrooms or the gym. Please, bring your own sleeping bag and a light mat You will cook your own meals as a group.
Language: eng,
Requirements: This workcamp needs volunteers who are not afraid of physically demanding work and who enjoy working outdoor in all kinds of weather (it can get quite hot in summer). You can learn to work with different tools under supervision. Some work tasks will involve minor construction so you can use your skills or learn new ones.
Approximate Location: A small town of Odolena Voda (population of 6,000 inhabitants), located approximately a half an hour drive from the outskirts of Prague.Leisure time: You can visit the local baroque church, fortress and museum; go on a hiking trip to close-by volcans, a trip to Prague, to the Veltrusy castle or a cycling trip to the town of Melnik. There is a possibility to use the community sports facilities for playing football, basketball, volleyball and beach volleyball and tennis. A BBQ party with locals will be organized during the workcamp. There is also a natural swimming pool in Odolena Voda. Please bring a swimming suit.
Notes: During the workcamp, an international literary evening Meeting of Languages will be organized in a house where a significant Czech poet Vitezslav Halek was born. You can get involved in the program by reciting short extracts of your favourite book or poem to the other volunteers and the public (in English or even in your native language). Please bring your favourite novel or book of poems, preferably in hard copies, which you would like to present at the event. See photos from the previous workcamp: goo.gl/zfa9Cm
Organization Description: INEX – Association for Voluntary Activities is a non-governmental not-for-profit organisation founded in 1991 to carry out and support international voluntary work and intercultural education. The mission of INEX-SDA is by organising international voluntary projects, educational programs and campaigns to: 1. assist the development of a tolerant and open society and 2. encourage an active and responsible approach to the world around us both locally and globally We create space in which especially (but not only) young people can gain new experience, expand their skills and and develop their own views of the complexity of the world around them.