Back to Nature Summer Camp
Topic:
7: Children and youth
Work Types:
Work with children
Free places for Females:
0
Free places last update:
18 Jul 2019
International age:
20 - 28
Motivation letter:
This camp requires an additional motivation letter to explain in more detail why you would like to attend.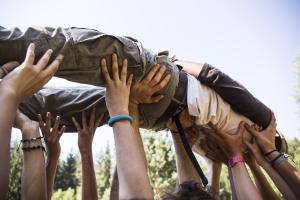 Description: The workcamp is organized in co-operation with the Czech national section of EUROSOLAR and Nature Conservation Agency. EUROSOLAR promotes renewable energies, sustainable lifestyle, it engages in youth environmental education and organizes environmental summer camps for children and families. EUROSOLAR is looking for 2 independent volunteers to support their team of animators during a summer camp for children. The project takes place in an abandoned but exceptionally beautiful, hilly area of Bohemian Forest, near the western border of the Czech Republic. The campsite is totally isolated from civilization (the nearest Czech village is 11 km away), so we welcome volunteers that are fond of trying out a basic lifestyle in the forest and do not mind longer walks.
Type of Work: You will assist a team of animators with preparing activities for children (9-18 yo) during a summer camp. The idea of the camp is to show the children how to take care of themselves and be independent. Therefore, for example, children prepare their own lunch in small groups. There will be various creative and manual workshops, such as building a can, making candles, pencils or dream-catchers. There will also be various games prepared for the children, such as a treasure hunt or different sports. Every morning we will practise yoga (sun salutation) and every evening there is going to be a short meditation.Study part: Evening discussions about environmental and intercultural topics, learning to recognize stars, watching wild animals. As you will live in close contact with the nature you will improve your camping skills as well.
Study Theme: Evening discussions about environmental and intercultural topics, learning to recognize stars, watching wild animals. As you will live in close contact with the nature you will improve your camping skills as well.
Accommodation: In tee-pees (Indian tents with a fireplace in the centre) on wooden pads. You will cook together as a group on a fireplace. The food is only vegetarian. Nights in the forest are very cold, even frosty, so bring a very warm sleeping bag, a camping mat, an extra blanket and/or sheet to cover a hay mattress. You will wash yourself in a small river with cold water next to the camp, toilets are dry and outdoor. Please see photos of the place here: goo.gl/UDGSqc
Language: eng,
Requirements: We expect volunteers to enjoy camping and being outdoors in simple conditions, close to nature. We also expect you to enjoy working with children. Please send us a short motivation letter and explain why you wish to participate in this project. Please note that this project is only open for female volunteers.
Approximate Location: GPS coordinates: 49.721559, 12.468716. The campsite in the valley of the Celni stream, an isolated part of the village of Lesna in the Bohemian Forest near the German border. The nearest bus stop is Stara Knizeci Hut and the nearest bigger town is Tachov.Leisure time: Hiking in the surrounding countryside. In your free time, you can play board games, experience Indian sauna and try out archery.
Notes: As the meadows can be very wet, bring waterproof working shoes (or rubber boots), and rain-gear. Please note that there are going to be maximum 2 international volunteers, the rest will be Czech animators who speak English. This is not a traditional workcamp, but you will have a chance to live in the middle of forest and be part of a local team. Please see the photos from previous years before you apply: goo.gl/UDGSqc
Organization Description: INEX – Association for Voluntary Activities is a non-governmental not-for-profit organisation founded in 1991 to carry out and support international voluntary work and intercultural education. The mission of INEX-SDA is by organising international voluntary projects, educational programs and campaigns to: 1. assist the development of a tolerant and open society and 2. encourage an active and responsible approach to the world around us both locally and globally We create space in which especially (but not only) young people can gain new experience, expand their skills and and develop their own views of the complexity of the world around them.