Recovery of historical memory through mural painting and signage with ceramics
Country:
Spain - Catalunya
Topic:
12: Art, culture and local history
Work Types:
Art / Cultural heritage / Restoration, renovation
Number of places still available:
0
Free places last update:
03 Apr 2019
International age:
16 - 99
Extra fee to be paid in the hosting country:
0.00
Required Language:
English
Motivation letter:
This camp requires an additional motivation letter to explain in more detail why you would like to attend.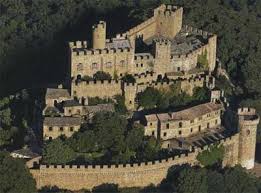 Description: The workcamp will focus on the recovery of the historical memory of the people through the creation a mural and ceramic plates which will represent parts of Hostalric's history.
Type of Work: Making a mural where an historical episode of the town will be depicted. Preparation of ceramic tiles of the old houses' names
There will be a professional artist who will explain the projects, will show the tools, the materials and the techniques that will be used. He will accompany them during the elaboration of the mural and the ceramic pieces.
Study Theme: The theme of the mural is about the historical memory of the people. The purpose is to highlight the "renovation" of spaces that were previously used as "fortresses" like the Castle of Hostalric and have now been converted into cultural, multipurpose spaces where a lot of activities are carried out for the benefit of everyone.
The recovery of the names of the houses of the main street and the realization of ceramic tiles using materials and techniques of crafts typical of the region is linked to the feeling of belonging to a town, a culture.
Accommodation: The volunteers will be accomodated at the Centre Cultural Polivalent Serafí Pitarra. The dormitory is mixed. Pillows are provided but you should bring a sleeping bag or bed sheets. Toilets are mixed and there is a shower for each sex.
Approximate Location: Hostalric, Catalonia, Spain
Organization Description: SCI Catalunya is the Catalan branch of SCI, one of the 2 SCI branches in Spain. We are based in Barcelona and our working area covers the Catalan countries (including Catalonia, Valencia, the Balearic Islands and Andorra). The other provinces of Spain are covered by SCI Madrid. SCI was founded in 1982 and he organization works on both a global and local level. On the global level, we organize international workcamps in the above mentioned territory Long Term Voluntary Projects (including EVS), trainings and seminars. . On the local level, we work to promote peaceful social transformation of society in order to encourage sustainable human development and a culture of peace, through volunteer groups, involving our community and local networks.