Topic:
7: Children and youth
Work Types:
Teaching / Work with children / Manual
Free places for Females:
0
Free places last update:
18 Apr 2019
International age:
16 - 17
Extra fee to be paid in the hosting country:
85.00 Euro
Purpose of extra costs:
The fee covers the main leader s salary, free-time and educational activities, travels within the project and it contributes to INEX-SDA s coordination costs. We require the volunteers to send the fee directly to INEX-SDA by a bank transfer before the workcamp starts. Bank details and deadline for payment will be provided in the acceptance email.
Required Language:
English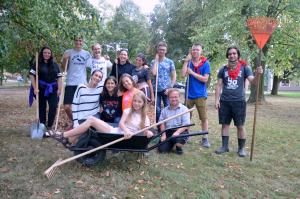 Description: Kysice is a village about 10 km from the city of Pilsen - the regional capital and the European Capital of Culture in 2015. About 900 inhabitants live in Kysice. It is an active village which emphasises cultural and community life and involvement of its citizens. The municipality of Kysice has organized 7 workcamps so far and it was the first one to organize teenage workcamps in the Czech Republic. There will be plenty of opportunities to meet the locals, especially children and youth but also adults who like to take part in different activities connected to the workcamp. The aim of the workcamp is to enrich the cultural and social life in the village, promote volunteering and international cooperation.
Type of Work: The main aim of this workcamp is to help organize 2 summer programs for local children and teenagers to develop English skills of the youth. You will play games and go on trips together with local youth. You will engage in English-teaching games, quizzes and competitions which you can also help to organize. The summer programs welcome children from 7 to 12 and youth from 13 to 18. Together you will also organize international evenings and a traditional event for children Good-bye, Summer Holidays (31.8.). These activities will take up about 70% percent of the workcamp. The rest of the activities will be manual, such as cleaning the forest and maintaining green areas in the villages. Please bring solid shoes and working clothes that can get dirty or damaged.
Study Theme: Two international evenings will be organized during the workcamp so that local people can learn more about volunteers countries and towns where they come from. There is also a possibility to attend creative workshops or to arrange visit to the local bakery, brewery or fire station. You can also attend a small show organized by the local music school.
Accommodation: In one big room of a local cultural centre. There are showers, toilets, a small kitchen and a common room with a piano. Boys and girls share the same space. Please bring your own sleeping bag and sleeping mat as you will sleep on the floor. Lunch will be provided in a local restaurant and you will prepare your own breakfast, snacks and dinner together as a group (1 kitchen team per day). Shopping is organized by the local partner and campleaders. There is no wi-fi in the building. Please bring simple recipes from your home country.
Language: eng
Requirements: Parental authorisation and medical form are required. The forms will be provided after the acceptance to the workcamp. We are looking forward to hosting active and communicative participants who would like to discover new things and meet new people. This workcamp is particularly suitable for volunteers with experience with working with children and youth and enjoy being part of a group.
Approximate Location: The village of Kysice near Pilsen. In the village, there is a cultural centre which will serve as accommodation for volunteers as well as a meeting place during summer camps. Near the cultural centre, there is a multipurpose playground, a small rope centre and a place for a campfire. In the ground floor of the culture centre, there is a local pub, a small convenience store and a gym. In the surroundings, there are a lot of forests, rivers and ponds with educational paths. Leisure time: Various sports, a golf lesson, football or volleyball tournament with the locals, visit to the city of Pilsen
Notes: Please prepare a presentation about your town and yourselves (e.g. hobbies etc.), or a dance or traditional games. Volunteers will also learn more about Kysice and the Czech Republic. You should expect to interact a lot with local children and youth. Please bring some ideas for games and activities for children and youth. If you play any musical instrument, you are welcome to bring it. Please note that some children do not have good level of English or rich vocabulary, however, there are keen on meeting new people. See photos from the 2018 workcamp in Kysice: goo.gl/bLdKNn
Organization Description: INEX – Association for Voluntary Activities is a non-governmental not-for-profit organisation founded in 1991 to carry out and support international voluntary work and intercultural education. The mission of INEX-SDA is by organising international voluntary projects, educational programs and campaigns to: 1. assist the development of a tolerant and open society and 2. encourage an active and responsible approach to the world around us both locally and globally We create space in which especially (but not only) young people can gain new experience, expand their skills and and develop their own views of the complexity of the world around them.