Light Festival at Castle Dreiluetzow: Build-Up, Do
Topic:
12: Art, culture and local history
Work Types:
Construction / Festival
Free places for Females:
0
Free places last update:
10 Aug 2019
International age:
18 - 26
Extra fee to be paid in the hosting country:
0.00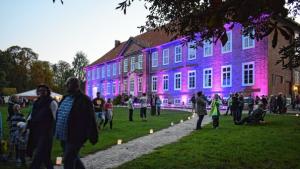 Description: The little village Dreiluetzow is situated in the federal state Mecklenburg-Vorpommern. The castle Dreiluetzow is a 300 year old estate with a big park, which will be the workcamp location. In the surrounding area you will find mostly forests and farms.
Type of Work: The main work during the camp will be the preparation of the light festival, which will be on the last Friday. At the light festival the whole park will be lightened by candles and fire and at different places there will be theatre, music and installations. Preparation works have to be done, such as building up tents, carrying things, playing music to practise for the event, painting signs and so on. Here we need your handicraft and also creative ideas to prepare a little program as a part of the festival. The projects depend on the dynamics of the participants If you play a musical instrument it would be great if you bring it with youYou will work together with two project leaders and volunteers of the castle Dreiluetzow. They will join your group like members of the workcamp.
Accommodation: The volunteers will be accommodated in multi-bed rooms (4-9 beds in a room) in a little building next to the castle. This house is only for workcamp group. The rooms can be locked. There is the possibility to do the laundry.You will be catered by Schloss Dreiluetzow, if there will be quite a few vegetarians, they will be easily catered for. Nevertheless there will be the opportunity to cook together in the evenings if you want to.
Language: eng,
Requirements: -
Approximate Location: Wittenburg, the nearest town is about 4 km away and the closest big town is Schwerin, about 25 km away.