Digital Detox 1: Foresting and Camping on the Liep
Topic:
10: Environment protection
Work Types:
Construction / Environment
Free places for Females:
0
Free places last update:
18 Jul 2019
International age:
18 - 26
Required Language:
English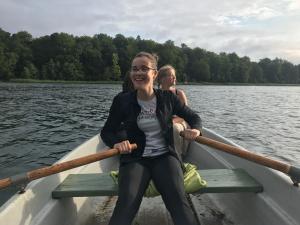 Description: The island Liepnitzinsel is situated in a picturesque lake, the Liepnitzsee, in the north of Berlin. It is surrounded by a beautiful landscape with many forests and lakes. On the island live many permanent campers during the summer. Please respect them. To cross the lake you have to go by ferry. It is running between 8 a.m. and 8 p.m.
Type of Work: The main works will be done in the wood. The volunteers will do various environmental works as well as renovation and construction works on the island and in the forests around the island. Possible tasks are removing bushes and invasive small tree species, collecting rubbish and wood, repairing works and so on. Volunteers should be prepared to be flexible and take part in any work that will support the foresters.
Accommodation: Your accommodation will be very basic. You will sleep in three large tents on camp beds. The infrastructure on the island is very basic without electricity and warm water, not even a warm shower. There is no heating in the tents and on the island you have to use compost toilets. The accommodation is quite isolated so volunteers should come with ideas about how to entertain themselves in the evenings The foresters of the project have built a nice and comfortable block house where the group will meet and eat. A small kitchen is available and food can be cooked on a gas hob cooker. There is also a fridge in the kitchen, so do not worry about the food. Please bring recipes and spices / special ingredients from your country for your turn to cook.
Language: eng,
Requirements: You Need to be able to swim.
Approximate Location: The workcamp is situated 25 km north of Berlin in a landscape consisting of woods and surrounded by several lakes. Volunteers can go swimming in one of the lakes. There are lots of opportunities for outdoor sport activities like soccer, table-tennis and volleyball.Please be prepared not to be able to visit Berlin very often. This is a camp for Nature Lovers