Agro-living Wellness at Sanhe Village
This project is part of the SCI North South Programmes. Volunteers should be 20 years old, have previous volunteering experience and take part in the Preparation Workshops organised by their sending branch. More details from your sending branch.

Camp code:
TW-VYA 10.1907
Country:
Taiwan, Republic of China
Topic:
10: Environment protection
Work Types:
Agriculture / Environment
Free places for Females:
5
Free places last update:
02 Mar 2019
International age:
18 - 99
Required Language:
English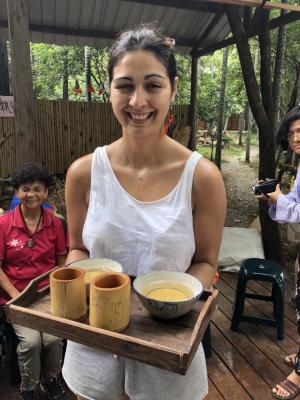 Description: We picked Sanhe village to be the place to promote sustainability and SATOYAMA initiative because in this agricultural community where there's no convenient public transportation connecting to the metropolis., but the people believing in all beings are equal; realizing that people already have plenty and we can give more to our habitat, the earth! The township is known for the Buddhist temple in the center of Longtan Lake. It was voted the most distinctive town in Taiwan 2015.
Type of Work: We will focus on environmental sustainability by building a three-room housing with the rammed earth construction technique. Using raw materials such as soil, straw and gravel found locally which will teach volunteers the environmental effects and sustainability for the habitat. This will not only be a labor intense experience but also a spiritual cleansing journey for you.
Study Theme: Volunteers are encouraged to share their knowledge on sustainability from their countries and reflect upon what they have learned and prepare to bring home at the end of the workcamp.
Accommodation: Community Center. Sleeping bag is required! Food will be offered by local people but volunteers still have a chance to cook in some cultural exchange events.
Language: Chinese Mandarin.
Requirements: Please take note of the project's minimum requirements: • age 18 + • High school graduate • Able to work in heat (sunlight), nature with insects • Good physical fitness • Love a good sweat • Police clearance form • Immunizations (please consult your doctor)
Approximate Location: The township is known for the Buddhist temple in the center of Longtan Lake. It is north of Taiwan, locates in the same city as the Taoyuan International Airport. It was also voted the most distinctive town in Taiwan 2015 Google Map: https://bit.ly/2EMytyc