Volunteer Holiday on Talent Show & Farming
This project is part of the SCI North South Programmes. Volunteers should be 20 years old, have previous volunteering experience and take part in the Preparation Workshops organised by their sending branch. More details from your sending branch.

Country:
Taiwan, Republic of China
Topic:
7: Children and youth
Work Types:
Teaching / Festival / Work with children
Free places for Females:
0
Free places last update:
31 May 2019
International age:
16 - 99
Extra fee to be paid in the hosting country:
0.00 New Taiwan Dollar
Required Language:
English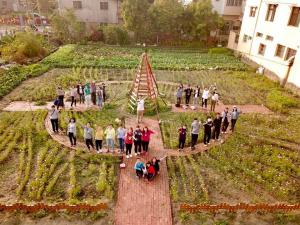 Description: Since 2009, Meishan Christian Church has taken care of kids from underprivileged families free of charge. Now there are 30 kids in total from elementary school to high school. In 2016, HYDROVEGE, a new social enterprise, with an economic point of view, got involved. With new farming ideas and techniques, HYDROVEGE was established to further the following social purposes in a financially sustainable way. Join us and take a look at how we share these values to our kids and see how these values influence their future! Watch our stories here: https://youtu.be/TG8E5xQHc74
Type of Work: 1. Teaching and preparing Talent Show with local children.
Join farming service in the HYDROVEGE hydroponics farm.
Carpentry construction with the other volunteers and local children.
An International Talent Show held together with the other volunteers and local children.
Accommodation: 1. At HYDROVEGE center. Sleep in shared room with wooden bed and mattress, no need to bring your own blanket and pillow, unless you have your own preference. Shower and toilets are available.
Laundry Machine is available, should share with the other participants consider to save energy and water.
Paid Telephone for international call is available in 7-11 just nearby the accommodation 5 minutes on foot.
First Aid: A local clinic near the accommodation is a 2-minute walk away.
Accommodation is about a 10-minute drive away from Hou-li Train Station.
Language: Chinese Mandarin
Requirements: 1-Applicants NEED to prepare one section or series of talent class to teach local kids, and having a show in a professional concert hall to share with local kids! Please briefly mention about your talents or skills (with short video link will be perfect) when you apply for this program. 2-Please let us know the equipment or instruments required.
Approximate Location: 1. HYDROVEGE center, a small farm in Hou-li, Taichung City, located in middle Taiwan.
Google Map: https://goo.gl/ZI5Els