WOOD JOB In DaZhong Community !!
This project is part of the SCI North South Programmes. Volunteers should be 20 years old, have previous volunteering experience and take part in the Preparation Workshops organised by their sending branch. More details from your sending branch.

Camp code:
TW-VYA 10.1913
Country:
Taiwan, Republic of China
Topic:
10: Environment protection
Work Types:
Environment / Manual / Restoration, renovation
Free places for Females:
0
Free places last update:
31 May 2019
International age:
18 - 99
Extra fee to be paid in the hosting country:
0.00 New Taiwan Dollar
Required Language:
English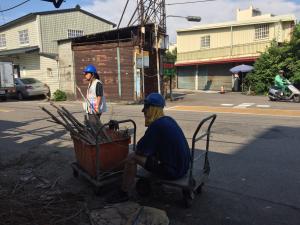 Description: The industry of Dazhong Community is rooted in the love of the earth, allowing resources to be reused. The wood which has been planed is the same as the new one! The initial treatment of the recycling of the wooden pallets is pulling,making them flat. And then the next step is the customization of the 3D concept of aesthetic design,which uses "Luban Skill" to let the memory of the community more impressive. Through the continuous improvement of the skills of the wood industry, and community talent training to promote and inherit ~ Innovative Dazhong's regenerative skills deepen love in every corner, hoping to lead the community return to the original but also innovative one.
Type of Work: ①Pedestals for mobile phones (material preparations, processing, and painting): A primer experience. Make your own souvenir as well! ②Furniture repairmen for underprivileged families:Recycle and make welfare. Give new life to wood and people in need! ③Material preparations: We need volunteers to help us get the materials ready for the goods and group DIY classes. ④US military literature and history survey: Handling American Army Story Exhibition and US Army Story Wall
Accommodation: ※Stay : Dazhong Community Activity Center(No. 285, Wuquan 5th Street, West District, Taichung City)
※Three meals ①Breakfast:workday provide by the park ②Lunch:workday provide by the park ③Dinner:arrange by volunteers, the team leader will bring you to know the community food.
※One of the meals allows international volunteers to cook local cuisine, and we are responsible for the cost of ingredients.
Language: Chinese Mandarin
Requirements: US military literature and history survey and US military related woodwork are major in the voluntary program.Volunteers with interests on literature and history survey or handcrafting or backgrounds in art design are particularly needed.
Approximate Location: ①熊肯作Woodwork Park@Taichung Metropolitan Park (No. 181, Xitun Rd., Xitun Dist., Taichung City) ②Dazhong Community Activity Center (No. 285, Wuquan 5th Street, West District, Taichung City)