Let's make the Lion Head Colorful in Xi-Shan Folk Art Village
This project is part of the SCI North South Programmes. Volunteers should be 20 years old, have previous volunteering experience and take part in the Preparation Workshops organised by their sending branch. More details from your sending branch.

Camp code:
TW-VYA 12.1914
Country:
Taiwan, Republic of China
Topic:
12: Art, culture and local history
Work Types:
Art / Cultural heritage / Restoration, renovation
Free places for Females:
1
Free places last update:
11 Jul 2019
International age:
18 - 99
Extra fee to be paid in the hosting country:
0.00 New Taiwan Dollar
Required Language:
English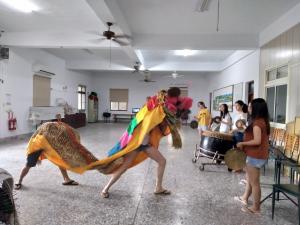 Description: Xi-Shan community is located in the center of Taichung, near the foothills across the mountain ,looking for the Taiwan Strait, located in the township. 60% of the residents for agriculture are planting wheat, rice, red barley, grains class. Community from 6 years ago,due to the presence of precision science park, it is hoped that the young population can return, the majority of the elderly in the community is lack of vitality and creativity, due to population aging, lack of motivation to create a community. It is hoped that the participation of international volunteers will encourage residents to care for community affairs and expect various cultural injections to collide with explosive sparks.
Type of Work: 1-To encourage the elderly to participate in community activities, the community one day a day for the care of the elderly stronghold, health promotion activities, led by volunteers to experience the different cultures, stimulate curiosity and mobility. 2-Hope that through the international volunteer lion head and painting, experience traditional Chinese ghost festival ceremony, into the community culture so that residents can also enjoy the international volunteer ideas but also enrich the community experience. 3-Combining community martial arts teachers and craftsmen to make the international volunteers and the community residents make the experience together.
Accommodation: The center is equipped with bathroom facilities, kitchen utensils, working days or free day meals can be self-cooking fire (food can be near to the Market procurement).
Language: Chinese Mandarin
Requirements: 1) Those who have special skills or interests in folk art, like performing people and experiencing new business. 2) Please volunteer to bring home small traditional folk clothing, children's play, and community cultural exchanges. 3) bring 2-3 kinds of home-resistant pests and vegetable seeds.
Approximate Location: Taichung City, Taoya District, near the Chingchuankang International Airport, about 15 minutes by car. About 20 minutes drive from Taichung city
Google Map: 428 Taichung District, Taichung City Xishanli Activity Center