Experience the Taiwan Ghost Festival in Da Jhuang Community
This project is part of the SCI North South Programmes. Volunteers should be 20 years old, have previous volunteering experience and take part in the Preparation Workshops organised by their sending branch. More details from your sending branch.

Camp code:
TW-VYA 12.1915
Country:
Taiwan, Republic of China
Topic:
12: Art, culture and local history
Work Types:
Festival / Cultural heritage
Free places for Females:
0
Free places last update:
10 Jul 2019
International age:
18 - 99
Extra fee to be paid in the hosting country:
0.00 New Taiwan Dollar
Required Language:
English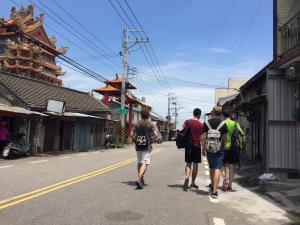 Description: 1)Get to know Ghost Festival, release water lanterns, and help with setting up the venue for venerating. 2)Volunteers can do some health promotion activities with the elders and share their exotic cultures with the children to let them gain the special experiences and broaden their horizons. 3)We hope that the young generation in the community can introduce our features to international volunteers, and they can be much more interested in participating in activities in our community during and after the volunteering WorkCamp.
Type of Work: 1)Accompany the elderly: Our community holds health activities three times a week. We expect the volunteers to take part, design some interesting games and prepare some performances, so the elders can experience different cultures, have fun, and learn new things from different perspectives. 2)Hold an activity for the local elementary school students, bring the global info into their world, and intrigue them. 3)Get to know ghost festival in Taiwan and share ghost-related festive culture in your countries with everyone.
Accommodation: 1)All the volunteers will stay in the community center together. Volunteers need to bring toiletry and summer sleeping bag by themselves. 2)Everyone will have a cabinet to deposit his/her luggage. 3)Volunteers can hang and dry their clothes at the designated place on the third floor. 4)We offer the hangers, the brushes and the washing soup. Volunteers can prepare these things by themselves if needed.
Language: Chinese Mandarin
Approximate Location: Dazhuang Community of Taichung City, Taiwan No.1, Ln. 168, Wenhua St., Wuqi Dist., Taichung City 435, Taiwan
Google Map: 台中市梧棲區大庄社區發展協會