Preserve and Revitalize the Old Houses in Wuqi
This project is part of the SCI North South Programmes. Volunteers should be 20 years old, have previous volunteering experience and take part in the Preparation Workshops organised by their sending branch. More details from your sending branch.

Camp code:
TW-VYA 12.1917
Country:
Taiwan, Republic of China
Topic:
12: Art, culture and local history
Work Types:
Construction / Cultural heritage / Restoration, renovation
Free places for Females:
0
Free places last update:
10 Jul 2019
International age:
18 - 99
Extra fee to be paid in the hosting country:
0.00 New Taiwan Dollar
Required Language:
English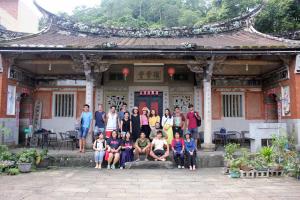 Description: Wuchi District is a plain that lies between Dajia and Dadut rivers and faces Qingshui District on the north, Shalu District on the east, Longjing District on the south and Taiwan Strait to the west. The current coastline is constructed by Taichung Port. In a coastal town, its development history has an inseparable relationship to the prosperity of harbor. Wuchi is anciently named as "Bamboo Raft Cave" and "Wuchi Port". It is located on the west of Qingshui Mountain, Qingshui District, so called "Aoxin".
Type of Work: *Help the community to create2 place, preserve and revitalize an old house.
Organize concerts and market events for the topic.
Participate in local travel and ghost festivals.
Accommodation: We will stay in an accommodation owned by the The Presbyterian Church In Port of Taichung. Sleep in shared room with woody bed. Sleeping bags are compulsory (volunteers need to bring your own, please). Meals will be served by the community except one dinner have to be cooked by volunteers. Need to bring mosquito repellent.
Language: Chinese Mandarin
Approximate Location: Location: NO.302, Jhonghe St., Dirt. Wu-Qi, Taichung City, Taiwan GOOGLE MAP:臺中市梧棲區下寮里中和街302號 https://goo.gl/JmxKmm