Therapeutic garden for people with disabilities
Topic:
9: People with disabilities
Work Types:
Work with people with disabilities
Free places for Females:
0
Free places last update:
16 Jul 2019
International age:
18 - 99
Extra fee to be paid in the hosting country:
0.00 Czech Koruna
Required Language:
English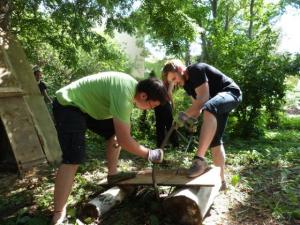 Description: The Práh Association helps mentally disadvantaged adults from South Moravia region and supports them in their inclusion in the everyday life. It helps its clients with problems in all basic matters such as work, independent living, education, health care, interpersonal, family and partner relationships, leisure time activities, etc. Besides this, the Association contributes to demanding of the mentally ill people's rights and tries to improve the public view on people suffering from this illness.
Type of Work: During previous projects, we started building a mosaic in Práh, and this year we will continue in this creative activity. Then, we will paint a fence, cut self-seeded trees, and do some other landscaping in the therapeutic garden. After all this work we will take a trip around Brno city, see Špilberk castle or swim in the local dam and experience a summer cinema in the garden!
Study Theme: The community of Práh offers an alternative to psychiatric hospitals, and in contrast to them creates an environment where mentally disabled can establish friendly relationships with their assistants, develop their skills and to some extent gain independence. Coming here is a unique chance to experience life in such a community, work and spend free time with the people and learn something about social inclusion.
Moreover, you will discover the beautiful countryside of South Moravia and the second biggest city in the Czech Republic.
Accommodation: We will sleep and will have a "base" in a big room which belongs to the daycare center. We will sleep on matresses, but you will need to bring your own sleeping bag. There is regular bathroom with showers and hot water on site.
Language: The language spoken in the Czech Republic is Czech, but we do not expect you to know it! English will be the language of the workcamp, and we will teach basic words in Czech at the beginning, since most local people do not speak English. But do not worry, the people of the Práh Association are very friendly and easy-going!
Requirements: Open mind and willingness to spend the whole workcamp together with the community. You will work, cook or make trips together.
Approximate Location: The Association is located directly in Brno city.
Organization Description: Tamjdem (in translation "There we go") is a non-governmental non-profit organization based in the Czech Republic. Where do we go? Since 2013 we organize international workcamps, voluntary weekends and other events in order to contribute to the development of non-profit sector in the Czech Republic as well as abroad, support active and responsible society and connect volunteers with interesting non-profit organizations and initiatives. We believe that volunteering is a way to show that you care about the world, chance to support public benefit projects, gain new experiences or skills, and get to know yourself, your neighbours and the world.