Independent Art Center on Farm
Topic:
12: Art, culture and local history
Work Types:
Art / Cultural heritage / Restoration, renovation
Free places for Females:
0
Free places last update:
31 Jul 2019
International age:
18 - 99
Extra fee to be paid in the hosting country:
0.00
Required Language:
English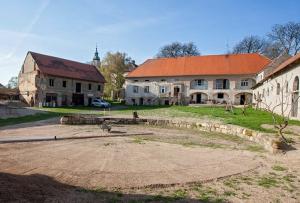 Description: The independent cultural center Farmstudio is situated in the Kokořínsko Protected Landscape Area in a former farmhouse from the early 19th century. Also, it's located just 60 km away from the capital city - Prague. It provides space for creative residential stays, art workshops, music festivals, theater and dance groups, and other contemporary art activities. The center supports the relationship and co-responsibility of the locals to the place where they live and brings new insights from the international cultural environment.
Type of Work: We will help with renovation of the historic farm buildings and yard and transform them into the art center. We will do landscaping, easy construction work, renovation, painting, grinding. After all this work we can relax on site with its unique atmosphere and enjoy evenings by the campfire. In the free time, we'll make a trip to the surrounding nature and visit nearby castle Kokořín, from the 14th century.
Study Theme: The community of Farmstudio is trying to save historical buildings of a former farm. Not only they aim to save and preserve the object itself, but they want to give it another purpose. The idea of an art center came naturally from the owner – artist and photographer, who was searching for such place for a long time. Coming here is a unique chance to experience an evolving art center project, learn about classic building techniques, preservation and reconstruction of historical buildings. There is also a possibility to attend a photography workshop.
Accommodation: We will sleep in rooms, directly in one of the buildings, which was already reconstructed. We will sleep on beds, but if you prefer sleeping outside bring your sleeping mat and sleeping bag. There are showers with hot water, as well as regular toilets.
NB: There are two cats living in the shared area. :)
Language: The language spoken in the Czech Republic is Czech, but we do not expect you to know it! English will be the language of the workcamp, and we will teach basic words in Czech at the beginning, since most local people do not speak English. But do not worry, people of Farmstudio are very friendly and easy-going!
Requirements: Open mind and willingness to spend the whole workcamp together with the community. You will work, cook or make trips together. The organisation prefers vegetarian food.
Approximate Location: The art center is located in Vysoká village, near to historical city Mělník.
Organization Description: Tamjdem (in translation "There we go") is a non-governmental non-profit organization based in the Czech Republic. Where do we go? Since 2013 we organize international workcamps, voluntary weekends and other events in order to contribute to the development of non-profit sector in the Czech Republic as well as abroad, support active and responsible society and connect volunteers with interesting non-profit organizations and initiatives. We believe that volunteering is a way to show that you care about the world, chance to support public benefit projects, gain new experiences or skills, and get to know yourself, your neighbours and the world.