teaching and cultural exchange international workcamp
This project is part of the SCI North South Programmes. Volunteers should be 20 years old, have previous volunteering experience and take part in the Preparation Workshops organised by their sending branch. More details from your sending branch.

Topic:
12: Art, culture and local history
Work Types:
Teaching / Festival
Number of places still available:
10
Free places last update:
10 May 2019
International age:
18 - 99
Extra fee to be paid in the hosting country:
200.00 Euro
Purpose of extra costs:
Registration fee
Required Language:
English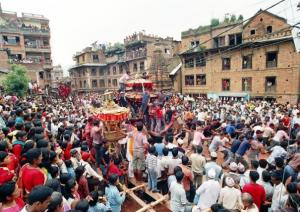 Description: Jya punhi this is local festival of the panauti. Every year we celebrate the festival on full moon. jya punhi is the one of the greatest and interesting to watch. The festival is celebrate for three days. Chariots of Unmatanta Bhairab (angry and emotional stage of Lord Shiva) and Bhadrakali ( female god of power) each with four wheels, and pull on by ropes by people. The last day of the festival these chariots push each others. Loud and melodious sounds of traditional drums beating add thrill and excitement of the whole scene.
Type of Work: Teaching and cleaning in the school and others activities.
Study Theme: Attending the local festival and home visit during the workcamp.
Accommodation: Basic accommodation at SCI Nepal Office. Sleeping bag is necessary.
Language: National language is Nepali so mostly people speak Nepali language and most of them understand English language.
Requirements: Bring anti mosquito liquid or cream.
Approximate Location: Panauti is the old city. it is around 33 km far from international airport.
Notes: volunteers will get chance to taste nepali fest. Opportunity to share own special food from own country.