Mountain Farm Loasa Cooperative (Bruzella TI)
Topic:
10: Environment protection
Work Types:
Agriculture / Construction / Restoration, renovation
Number of places still available:
1
Free places last update:
29 Jul 2019
International age:
18 - 60
Extra fee to be paid in the hosting country:
0.00
Required Language:
English
Spoken Language:
English, German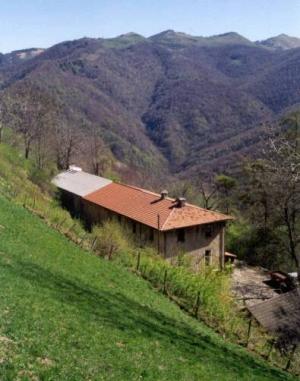 Description: Alpe Loasa is a full-year organic mountain farm in southern Switzerland, at the Italian border. The farm is remote from cities or villages, accessible only by walking / horse riding, with frugal accommodation. The many works are usually done by the young tenant family and the cooperative by hand. Here are many helping people very useful. In return of the work and the remoteness of the site, we offer an intense community experience.
Type of Work: The tasks include: building a wall from natural stones with stone baskets in steep area. Around 8 volunteers will work on that. Another group will build a rockfall protection system at the edge of the forest above the house. Yet another group can help our farmer Eva and Fabiano in hay harvesting. Work tasks can be rotated among volunteers and need to be planned spontaneously according to the weather conditions. Due to the heat work starts early and there is a long siesta after lunch.
Study Theme: We will talk about subsistence farming and traditional construction methods under mountainous conditions (the duration of the talk depends on the interest of the participants).
Accommodation: Simple accommodation in a dormitory - bring your own sleeping bag. (Narrow mattresses, woollen blankets and pillows available). Compost toilet, running cold but not hot water in the house, outdoor shower in the nearby forest with cold water only ~10 C°+ (if the summer is very dry the shower may run out of water). Hand washing clothes with hot water from the wood stove is possible. No internet & cell phone coverage. Landline phone is available for emergencies.
Language: Required camp language is English. Work instructions in basic English would be provided and the camp coordinator will help translating further details to the volunteers. People on the farm speak mainly German, so knowing this language will help you communicate with them better. The local language is Italian.
Requirements: You should be able to appreciate a simple, frugal life in a community. A good physical condition is necessary. You'll also need to bring robust boots, working clothes & gloves, sun and rain protection. In return of the work and the remoteness of the site, we offer an intense community experience.
Notes: Keep in mind that often the work on a farm can be monotonous and physically demanding causing even muscle ache. But it is also astonishingly satisfying. Please check high prices of public transportation within Switzerland before you apply for the camp to avoid cancellations.
Organization Description: SCI Switzerland is a non-profit-organisation which stands for intercultural exchange, sustainable development and non-violent conflict resolution. It is certified with the Intermundo-SQS-label, which guarantees high quality standards in youth exchange. SCI Switzerland has been organizing workcamps and long-term exchanges for volunteers worldwide since 1920. Each year, more than 100 volunteers from Switzerland engage in SCI projects abroad, while around 200 international volunteers work in projects in Switzerland. Swiss workcamps have a main focus on the work and exchange with children and youth living in asylum-seeking centres as well as environmental protection. In that line SCI Switzerland promotes a more environmental-friendly lifestyle in accordance with the goals of sustainable development. Therefore volunteers are expected to be aware of their environmental impact and encouraged to choose more eco-friendly means of transport. Please also check transportation costs within Switzerland before applying for our camps as this is expensive. Enter the place (to be found in the camp title) in the railway website www.sbb.ch. A participation in the camp from the first until the last day is needed for reason of instruction and group dynamic.