International Summer in Stolmir
Topic:
7: Children and youth
Work Types:
Work with children / Restoration, renovation
Free places for Females:
0
Free places last update:
06 May 2019
International age:
18 - 99
Required Language:
English
Motivation letter:
This camp requires an additional motivation letter to explain in more detail why you would like to attend.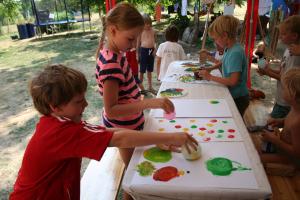 Description: The workcamp is held in a small village Stolmir in cooperation with a non-profit organization Mamaloca who work for the community, without prejudices, and in a harmony with the nature. The organization devotes itself to education, supporting the community and the culture life not only in Stolmir. They organize IT clubs for elderly, children groups and suburban camps. They try to save the local Saint Havel s church, organize concerts, theatre performances and festivals. Every month, they open a big traditional oven for public which can be used for baking homemade bread. The aim of this workcamp is to help to renovate St. Havel s church, create some outdoor furniture in the village and help with the artistic suburban camp for children.
Type of Work: You will engage in different types of activities: a) preparing a small festival (22.6.); b) work in the area of the church (removing invasive plants, cleaning gravestones, cleaning attics, building scaffolding etc.); c) assistance with organizing workshops during a children camp held from 8th to 12th July, every day from 8:30 AM to 5:30 PM (hosting organization will choose 3 volunteers based on the letter of motivation). Before and during the children camp, you can also be involved in creating and installing outdoor furniture and other elements in the village, e. g. outdoor bowling, painting the trash cans, creating a barefoot path and flowerbeds etc.
Study Theme: A visit to a blacksmith workshop, an excursion to a brewery, baking bread, involving in a ceramic s shop, many manual activities, getting to know the host organization and its activities, a guided visit of the St. Havel s Church.
Accommodation: In the building of the hosting organization. There is a large attic with a small kitchen and a bathroom. Toilets are on the ground-floor. The facilities include a workshop and a big garden. You will sleep on mattresses, but you need to bring your own sleeping bag. There is a possibility of sleeping in tents or yurts in the garden. During the children camp, meals will be provided by the organizers. In the remaining days, you will prepare breakfast and dinner together as a group, home-made lunch will be provided by host
Language: eng,eng
Requirements: Please send us a motivation letter explaining why you want to join this workcamp, what is your experience working with kids and what artistic skills you have. We are excited to meet passionate volunteers. We welcome your own initiative, creativity and artistic skills. No alcohol is allowed during work and around children.
Approximate Location: Stolmir (101 houses). It is about 1 km from the town of Cesky Brod which is about 10-15 minutes on foot. In the village, there is a public football pitch and a pond. Prague is about 35 minutes far by train from Cesky Brod. Leisure time: A bike trip in the surroundings, a trip to Prague, hiking, swimming in the Chrasnice quarry, projection of movies. In the accommodation, there is a piano and a projector.
Notes: Dates of your arrival are flexible, but it is necessary to join the workcamp latest on 28th June. During the first week, you will prepare a local festival (22.6.) and you will also work in the area of the church. Please write the date of your arrival in your application. Warning for people with allergies: in the surroundings of the organization, there are cats, dogs, horses, and cows. Please note that SDA 101a and 101b are the same workcamp, divided according to the topic and related tasks. Altogether there will be 10 volunteers.
Organization Description: INEX – Association for Voluntary Activities is a non-governmental not-for-profit organisation founded in 1991 to carry out and support international voluntary work and intercultural education. The mission of INEX-SDA is by organising international voluntary projects, educational programs and campaigns to: 1. assist the development of a tolerant and open society and 2. encourage an active and responsible approach to the world around us both locally and globally We create space in which especially (but not only) young people can gain new experience, expand their skills and and develop their own views of the complexity of the world around them.