Medieval-Camp 1: Who Had Been Luther and Cranach?
Topic:
12: Art, culture and local history
Work Types:
Art / Construction
Free places for Females:
0
Free places last update:
30 Aug 2019
International age:
18 - 26
Extra fee to be paid in the hosting country:
0.00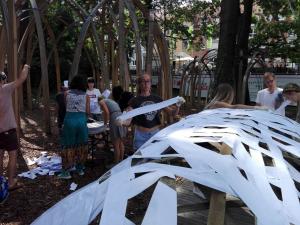 Description: Lutherstadt Wittenberg is famous for the reformer Martin Luther and the painter and printmaker Cranach. Wittenberg became one of the most important German towns of political, cultural, historical and artistic advances in the 16th century. The famous reformation places in the historic centre and the buildings developed in different epochs are forming the architecture of the town. It has been 500 years since Martin Luther nailed his 95 theses to the door of the Castle Church in Wittenberg. Although there is no historical proof of this happening, it was an event that changed the world. The reformations caused bitter religious and cultural battles. One of Luthers great achievements was translating the Bible into the vernacular (instead of Latin). Germany is paying tribute to one of its greatest sons with an entire decade devoted to Martin Luther: monk, professor and church reformer. Many people travel to Wittenberg because of its past, and its connection to Martin Luther who worked there. The river Elbe is close to the Biosphere reserve Mittlere Elbe.
Type of Work: During the 1st week of your workcamp a Creative Workshop is planned, under the instruction of an artist. You will work creatively with colours, paper and fabrics in the rooms of the Cranach Courtyards Here you can find more information:www.lutherstadt-wittenberg.de/kultur/luthergedenkstaetten/cranach-hfe You will get the opportunity to learn more about the story of Luther and Cranach. In the next two weeks, you will do construction and maintenance works in the forest of Wittenberg, like repairing and building wooden constructions on playgrounds, renewing fences or animal enclosures. Volunteers should be prepared to be flexible and take part in any work that will support the project. During the weeks outside you will go to the work by bike everyday. Therefore, it is REALLY important that you are able to ride a bicycle
Accommodation: Accommodation:You will live in 2-4 bed rooms. Bed linen will be provided, there is no need to bring a sleeping bag. Food:Self-catering. Recipes and cooking ideas are welcomed.
Language: eng,
Requirements: You need to be able to ride a bicykle
Approximate Location: Leipzig, Berlin or Potsdam are about 70 km from Lutherstadt Wittenberg. There are other nice places to visit in the area: a lake, the river Elbe and the Wrlitzer Park, where you can spend your free time.