Topic:
7: Children and youth
Work Types:
Art / Cultural heritage / Work with children
Free places for Females:
0
Free places last update:
05 Jul 2019
International age:
18 - 25
Extra fee to be paid in the hosting country: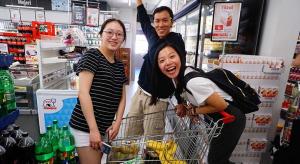 Description: Four main organizations will together be hosting and responsible for the camp, and HillerEd Volunteer Center will act as the daily leader during the whole camp. Below you will find some information about the The two main organizations: HillerEd Volunteer Center - https://frivilligcenter-hillerod.dk/ Our goal is to make it easy to get involved in the local civic society. The Volunteer Center is for everybody, who wants to engage in volunteer work or volunteer organizations. We support small associations and NGOs with fundraising, project development, volunteer management, communication, and PR. Every year, we conduct workshops and courses for volunteers and facilitate networks between NGOs, public administration and private companies. HillerEd Volunteer Center is an association of associations/groups and a secretariat of employees and volunteers. We are more than 100 different associations and groups with a high degree of local social commitment. Many groups have their meetings and activities here, others come by to make use of our practical facilities, organizational support or to cooperate with us. BErnehuset Buen - http://brnehusetbuen.dk/ BErnehuset Buen is an offer from HillerEd Municipality of treatment for children aged 4 and up and their parents. They are children of families that during a longer period have been in difficult life circumstances. Families can have experienced a tough divorce, chronic illness, psychological problems, social vulnerability etc. The childrens well-being and health is marked by this to a degree that makes authorities worried for their situation and future development. Other organizations Furthermore, several other organizations will be involved in the project for the camp e.g. Street-Lab, Adventure Park, and the sports association DGI.
Type of Work: In HillerEd, we offer a variety of summer activities for kids (7-15 years) during their summer vacation. In week 27 we will have an action-packed program for this part of HillerEd ( HillerEds Cultural Axis. Right now, the activities are work in progress, but as soon as we have a plan, we will send it to the work camp participants. We plan to have: Workshops with music, drama, sewing, painting etc Playgrounds with skating rinks, scooters, graffiti, live action role-playing games Social zones, where you can talk to other kids/adults, read books or play board games The camp will have different activities for the first and second week:First week: Preparations for the coming week with activities for kids. Second week: Kids Summer Activities in action from Monday to Friday The program will mainly take place during daytime from approx. 9:00 a.m. to 4:00 p.m. However, there will be some evening activities as well.
Accommodation: Sleeping facilities:BErnehuset Buen offers fine accommodation with beds for everyone in group rooms of up to 6 people. And participants do not have to bring sheets, linen, pillows or sleeping bags. There are very nice living rooms, where the group can hang out and relax. And there is also a working room with a large table and chairs for everyone. Kitchen bathroom facilities: There is a nice kitchen with everything you need to make meals to large groups. There are many toilets around the house, but there is only one bathroom, so the camp participants must work out a shower-plan. HillerEd Volunteer Center and the library also have showers, so there should be no problem. We will be back with more detailed information about purchase of groceries. But the camp participants will have to prepare all three meals for the group during the whole camp - with a few exceptions, where they will be invited to dinner by some of the hosts. There is a washing machine and a dryer. And the cleaning company of BErnehuset Buen will take care of the everyday cleaning of the house.
Language: eng,
Requirements: Please write 1/2 page about why you want to attend this camp. You need to provide your Criminal record because you will be working with kids.
Approximate Location: In HillerEd we have a castle, which was built in 1600-1625 by King Christian IV. HillerEd is surrounded by forests - and beautiful sandy beaches are only 30 minutes away by train/car. Read more about HillerEd here: https://www.visitnorthsealand.com/ln-int/north-sealand/hillerd The capital of Denmark, Copenhagen, is a 40-minute train ride away. And here are many things to experience and explore. Read more about Copenhagen here: https://www.visitcopenhagen.com/copenhagen-tourist