Topic:
12: Art, culture and local history
Work Types:
Construction / Festival / Manual
Free places for Females:
1
Free places last update:
09 Jul 2019
International age:
18 - 25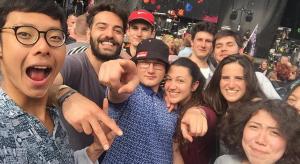 Description: Nibe Festival is the 6. largest music festival in Denmark and started back in 1985. It includes music of all sorts, but mostly Pop and Rock spread out on more than 100 concerts during the entire festival. There are 5 different stages which have different target groups. The enthusiasm, team spirit and good humor is the main reason why people return year by year to volunteer and work at the festival. We work hard to make an exceptional festival for our guests - but we have a lot of fun and great times doing it. The Festival is arranged by 4 employees with the overall responsibility, and 4000 volunteers, who are aged from 13 to 70 years of age.During the Festival, 15.000 guests daily come to visit the forest, which makes Nibe one of the most intimate and beautiful music festivals in Denmark. It is located out in a forest called Skal Skoven which gives a real special vibe, and it is only 500 meters from downtown Nibe. Our guests come in all categories, from teenagers to grandparents bringing their grandchildren, and we are proud to offer a Festival that all of these people enjoy and attend simultaneously.Nibe Festival is a nonprofit organization, and all profits are donated to local initiatives and to charity.Nibe Festival Webpage: http://nibefestival.dk/forside.aspxIt is the third consecutive Work Camp by Nibe Festival, all with great success.
Type of Work: The work will take place before and after the Festival. We will be working in teams with building, putting up and taking down fences, tents, festival bars, floors and much more - properly instructed by the practical coordinator.There will be a lot of other volunteers which makes it a wonderfull place to socialize, make friends and get that special connection with peers that might last a lifetime. Remember that we are off duty during the festival and therefore are forced to enjoy ourselves and listen to good music in between work ;)During the four days of the festival you will be able to go on excursions and take a look at Denmark, should you wish so. You are also welcome to stay and experience Nibe Festival and enjoy seeing the result of your work. As a volunteer, you will be provided with access to Festival site for the four days free of charge.
Accommodation: Sleeping facilities:We offer accommodation in new tents with room for two people. We will be sleeping in a quiet area at the festival. You will have to bring your own air mattress and sleeping bag and what else you might need for a good night s sleep. Remember to bring warm clothes, as the weather can be cold ( especially in the night.Kitchen facilities: The festival will provide food for all participants and you wont have to cook. This includes both before, during and after the festival. Danish food is served. If you are vegetarian, do not eat pork or have allergies let us know and we can make a special arrangement.
Language: eng,
Requirements: A motivational letter is required for this Work Camp.Please write I 1/2 page about yourself, explaining why you are motivated for this camp.
Approximate Location: The Festival is based in Skalskoven - a beautiful old forrest close by the river Limfjorden. The Festival is close to Nibe city, and therefore there are a lot of possibilities. Shopping, going to the harbor for a dip, nice cafes. The people of the city are friendly and happy to welcome the many guests to the city, and helps them to have a nice stay. Nibe is also very close to Aalborg, Denmarks 5th largest city with a rich cultural life and lots of possibilities. Please contact us if you have any suggestions about things you want to do or go see ( then well see if we can work something out.You are each expected to give us and the other volunteers a little lecture about your country ( may it be a presentation, a language course or anything that provides us with some basic knowledge about you and your culture. You decide how you want to structure it. It just has to last for about 30 minutes. Just be free and creative. Maybe bring some pictures of your country, a small flag(for the tent area and decoration as well), perform a play, or perhaps you have some sweets to share, recipes (since we wont be cooking, foods, snacks and recipes are always fun to bring), or something else?