Work in an Organic and Social Community
Topic:
10: Environment protection
Work Types:
Agriculture / Environment / Manual
Free places for Females:
0
Free places last update:
04 Jul 2019
International age:
18 - 25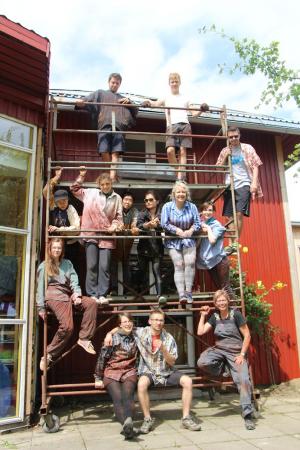 Description: The community is an ecological and social community, where people live close together. AIH was founded in 1991 and today more than 270 people live here. The community is organized in 8 groups consisting of apartment and houses, with one group dedicated to young people with mental disabilities. AIH holds an organic farm with various farm animals, grain cultivation, vegetables and fruits. Furthermore, we have a recycling and thrift shop, a bakery and a small grocery shop.At AIH we focus on sustainability and sustainable living.At our homepage you can see some photos: www.andelssamfundet.dk
Type of Work: You will be part of the daily work in our big organic outdoor gardening. In June and july, the primary work tasks are to exterminate weeds and harvesting vegetables. We also have hens that needs to be fed, and eggs that needs to be collected. There will be small construction projects and maintenance jobs of older buildings. Besides the work, we will of course have time to participate in cultural events in the local area and do smaller trips to the sea.
Accommodation: Sleeping facilities: Boys and girls wil be seperated into two houses. There will be beds for everyone in the houses. Please bring a sleeping bag, a pillow and bed sheet. Please also bring your own towels. There is a washing machine, that can be used free of charge.We expect that the work camp volunteers leave the accommodation in the same condition they found it. Cleaning up after themselves.AIH will provide all the food needed, breakfast, lunch, afternoon tea/cake and dinner. Two to three persons from the work camp will help prepare the meals with AIH residents.Please tell us if you have food allergies or preferences like vegetarian diet or no pork.
Language: eng,
Requirements: Please write I 1/2 a page, explaining why you are interested in attending this camp.
Approximate Location: AIH is situated in the countryside, but only 12 km from Aarhus ( Denmarks second largest city. Aarhus is a vibrant mix of youthful energy and a blast from the past which makes Aarhus a city with an energetic beat of the pulse. In 2016 Lonely Planet put Aarhus at the top of the list of Europes hottest destinations and during 2017 Aarhus was the European Culture Capital.The art museum, ARoS, delivers groundbreaking works from some of the worlds most progressive artists. Den Gamle By ( The Old Town Museum is a unique international attraction and Msgaard Museum will give visitors a world class museum experience.AIH overlooks Aarhus Bay and is only a short bike ride from the beach. And for the long Scandinavian summer nights we have bonfires for leisure time.If you are a student please also bring your student card, it will give you discounts at museums etc