Life and Work in Eco Village
Topic:
12: Art, culture and local history
Work Types:
Agriculture / Manual / Restoration, renovation
Free places for Females:
1
Free places last update:
12 Jul 2019
International age:
18 - 35
Extra fee to be paid in the hosting country: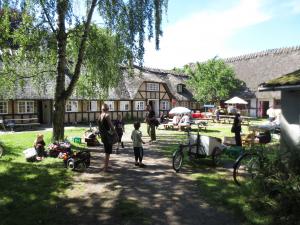 Description: The Self-Sustaining Village is a Danish ecovillage situated in the beautiful Southern Funen. We are around 35 adults and a 40 kids in a community with shared agriculture, animals, eco-building, nature, social life, celebrations and much more. We share many things, but also have individual homes and families. If you are curious to know more about community life this is a good place to start. I 2016 and 2017 we hosted work camps and we re looking forward to host one again in 2019. Lasse Brahe will be the main host of the work camp, but several other villagers will participate as well.Have a look at our webpage: www.selvforsyning.dk (Only in Danish)
Type of Work: The work of the work camp will be smaller restoration and construction projects in the village, combined with work in the fields and other community work.We re planning different tasks, including:- Restoration of our community house, which is a 250 years old protected farm house build in the traditional Danish building style. Eg. Cleaning and painting windows and doors, simple masonry work, other manual work. - Working in our community gardens and fields- Other small construction projects- Helping in the kitchen (1 or 2 volunteers each day)No particular skills required. Working hours will be in the day time.We try to plan the tasks according to you abilities and wishes, but it will be psysical work, mainly outdoor.
Accommodation: Sleeping facilities: In tents beside our community house. We have tents, but you re welcome to bring your own. Bring you own rolling matt and a sleeping bag. Be aware that Danish summer can be cold, especially in the nights.Other years some participants chose to sleep in the community house ( that is also a possibility for you, but most of you will then be sharing the same room.Bathroom facilities:There are two bathrooms and one shower that you will share. We have 3 washing machines that you can use free of charge.Food: Breakfast and lunch will be available, but you will prepare it yourself. At dinner time you will join our communal dinner served for the whole village. One or two of the volunteers are daily expected to help cooking the dinner together with the villagers. Beverages such as coffee and tea is provided, and we have a small shop where you can buy soft drinks, chocolates, etc.
Language: eng,
Requirements: A motivational letter is required.
Approximate Location: The village is located in a beautiful area only 6 km from the sea.- We will arrange some communal trips to the beach- A limited number of bikes will be available to use for personal trips in the local area.- Bondfire at night (bring your instruments).- Song evenings, movies, etc.- Whatever we can come up with. We are 70 people living here and we are always up for some fun.- This is the country side, so leisure activities are mainly in the surrounding nature. But if you are hungry for more entertainment, the nice and more or less lively city, Svendborg, is 15 km away.