Music Festival in Ecovillage
Topic:
12: Art, culture and local history
Work Types:
Construction / Festival
Free places for Females:
0
Free places last update:
18 Jul 2019
International age:
18 - 25
Extra fee to be paid in the hosting country: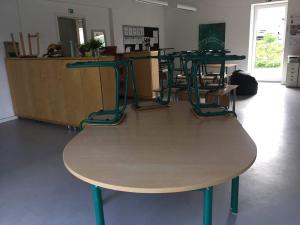 Description: Himmelstorm Festival is a small 3-day music festival hold by the eco-village Dyssekilde. It is located in Northwestern Zealand in the countryside next to a small village called Torup, Torup has only about 1000 inhabitants, and the festival has even less participants. The community of Dyssekilde is built in early 90es with strong ideas and principles of ecology and sustainability. All houses, toilets, everyday wares, and ways of heating the houses are organic and sustainable. The community even has their own windmill to power their houses. The festival itself is built on the same principles as the community, for instance; only organic food and beer from the local brewery are served. Everything from theatre, handcrafts, general intimacy and colours and vitality are valued at the festival. Thus, the festival is considered a family and children friendly place to be. Himmelstorm Festival has since its infancy been non-profit, which makes our volunteers essential for making Himmelstorm what it is today. Every year approximately 220 volunteers contributes in making Himmelstorm an experience to remember. The festival takes place 26-28 July 2015, but at lot of the work will consist of preparing and building up the festival, as well as adding several funny and interesting initiatives to an already fantastic event. You can take a look at Himmelstorm Festivals webpage here (unfortunately it is only in Danish): www.himmelstorm.dk Website of Dyssekilde Community: http://dyssekilde.dk/uk
Type of Work: Well assembling pre-build structures, pitching big top tents, setting up showers and toilets and cooking meals for all the fabulous volunteers preparing the festival grounds for the festival. Youll be off during the festival, until Sunday morning when well start disassembling and taking down the festival.
Accommodation: Sleeping facilities:We offer accommodation in two classrooms in a nearby school. You need to bring an air mattress, sleeping bag and etc. Kitchen facilities: During the days before and after the festival, you will be provided lunch and dinner. You can use the kichenette at the school to prepare breakfast. There will be a grocery store in the village. During the festival there you will be given two meal voucher to buy lunch and dinner. You can still use the kichenette to make breakfast. Please let us know in advance if you are vegetarian.Bathroom facilities:There will be a bathroom facilities at the school. Here you will be able to have a shower. There won t be any washing machine, so bring plenty of clean clothing.
Language: eng,
Requirements: A motivational letter is required for this Work Camp.Please write I 1/2 page about yourself, explaining why you are motivated for this camp.
Approximate Location: You will be provided a bicycle that you can use during your stay. That gives you the freedom to explore the sourroundings easily. There is a beach close by that you will be able to visit. Hopefull the weather will be nice. Furthermore, you will be sourrounded by wood and nature in the eco-village. You can explore the nature and see rural scenery of Denmark.