Topic:
10: Environment protection
Work Types:
Art / Construction / Environment
Free places for Females:
0
Free places last update:
06 Sep 2019
International age:
18 - 35
Extra fee to be paid in the hosting country: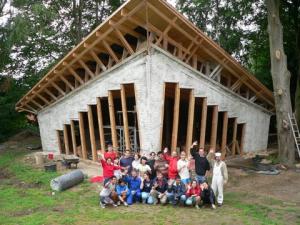 Description: Brenderup Hojskole hosts the camp. In English we call ourselves for the Academy for Intercultural Learning. Brenderup Hojskole is working as a boarding school with an international approach and accept both Danish and foreign students, who are more than 18 years old. You can read more about the school here: http://www.brenderuphojskole.dk/filer/english.htm For the last many years, Brenderup have hosted work camps that have supported the building process of Brenderup environmental friendly buildings. We have made:- The straw bale house, a big culture and music hall. - A ellipse-shaped lotus house, which is functioning as a workshop for outdoor living activities.- The treetop shelter was made for people who want to sleep outside in the night.- The climb around the world boulder climbing walls.- A historic and cultural play park.- An organic fitness center in our garden was made, where nature is used instead of artificial machine equipment.- We have completed an artistic brick laying camp, where we were decorating a rather big yard with old Celtic sings and patterns. We also did work with city gardening.- Last year we incorporate former years ideas and concept ( building sustainable. We call it our Off-Grid House. The off-grid house has been built during the last year. It is a house which is producing ( everything( all energy -within its own walls.- Last year, we also decorated and made paths in our garden between all our sustainable houses.
Type of Work: Please prepare for practical work.1. In the middle of our park garden we have allocated an area for organic gardening/perma culture. You should expect to be outside every day and work with garden tools building up parts of the area. It could be by making raised beds for herbs and flowers. Water channels for watering, digging a chamber in the ground for keeping vegetables during winter. Natural shade for plants and people. Etc. THEREFORE, it is garden work - all done by an environmental way, using nature, for the nature The area of the new organic herb world is approximately 1000 square meters.2. Being very aware, green and organic in our thoughts and talks. We will also like upgrade our way of living at the school. There will be a lot of different jobs to do with this focus. It could be heating up outside showers with energy from the sun, or finishing a steam bath etc. 3. There is always maintenance to do on former workcamp projects4. Our straw bale house which were built 10 years ago needs a major maintenance in its earth roof. 5. You should be prepared that all project we do will be focusing on an environmental and green solutions.During camp, we will take time to debate sustainability - not only as an environmental issue but also on all levels - including sustainability among people and cultures.
Accommodation: Sleeping:You should expect to stay in a tented camp in the middle of our garden. There is also a chance of sleeping in dorms or rooms when available. Toilet and showers:In all three weeks access to showers and toilets in the school building are available. Food:Food is mainly organic, green made by our kitchen staff, and served three times a day. However, you should expect to assist after all meals doing dishes. In the weekend, you will assist in the making of the meals. Let us know if you are vegetarian.
Language: eng,
Requirements: A motivational letter is required. People, who are used to work with their hands in combination with artistic skills, will be preferred to the work camp and volunteers are expected to be ready to share their culture with the other participants and students at the school. Special motivation letters and other requirements may be attached to the info-sheet.It will be easier for you, if you are a green thinker English at a conversational level is required.
Approximate Location: Brenderup is located on the island Funen (Fyn) in Denmark. The village Brenderup (2000 inhabitants) is close to the beach, forests and idyllic countryside.You will have free access to our different workshops during the camp, including recycling design, music, art and gym workshops. There is wireless internet at the school. Bicycles can be rented for the whole stay.