Topic:
7: Children and youth
Work Types:
Work with children
Free places for Females:
1
Free places last update:
12 Jul 2019
International age:
18 - 99
Extra fee to be paid in the hosting country:
0.00
Motivation letter:
This camp requires an additional motivation letter to explain in more detail why you would like to attend.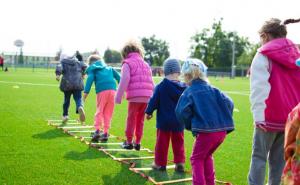 Description: Zdruzenie rodicov pri ZS na ulici SNP is an NGO established in 2003. Aim of this NGO is to help primary school ZS SNP in Surany with providing educational, cultural and sport events. Members of this NGO are parents of kids attending school ZS SNP.
Type of Work: The work will be focused on preparation of free time activities for group of 40 children. The children will be divided into 2 groups of 20, first one aged 8 ( 11 years and the second one aged 12 ( 15 years. These groups will be running at the same time. The main purpose of the camp is to give an opportunity to local children aged 8 to 15 years to improve their English skills and create environment for communication in English. The volunteers will help with organising activities, games, creative workshops and intercultural program for children. The workday last 6 hours, lunch included. The material will be provided by local partner.
Study Theme: The workcamp will be visited by INEX Messenger who will organize a workshop focused on current events in Europe. The volunteers will prepare the "Feast of cultures" - an international food festival for the local community, and will join the "volunteering footprint" workshop. Our camps will follow the rules of the Sustainability campaign.
Accommodation: Lodging will be provided in the classrooms of elementary school on mats, a sleeping bag is needed. Volunteers will be in charge of preparing the food ( breakfast, dinner. Lunch will be provided in the restaurant. On demand, vegetarian meals can be provided.
Language: eng,
Requirements: MOTIVATION LETTER IS NEEDED Good level of English and previous experience with work with children are welcome. As volunteers are staying in the school and will work with children, alcohol, cigarettes and other drugs are not allowed.Bring a sleeping bag, a swimming suit, some info materials and pictures of your country, materials which could be used in your workshops and games with kids, musical instrument to play nice music, some ideas for games with the children, your enthusiasm and a smile on your lips :).
Approximate Location: The camp will be organized in the town of Surany ( a railroad hub in the Nove Zamky District, Nitra Region, southern Slovakia. There is a trip planned during the weekend to Banska Stiavnica ( a beautiful mining city in the heart of Slovakia. Volunteers can learn to bake traditional Slovak baked goods with a local skilled grandma, or can go swimming into a lake or just walk around the town. In addition, during the stay in Surany there is a possibility to visit a former local sugar factory, which now hosts the biggest bike hall in central Europe and a private exposition of veterans.