Topic:
10: Environment protection
Free places for Females:
1
Free places last update:
03 Aug 2019
International age:
18 - 99
Extra fee to be paid in the hosting country:
0.00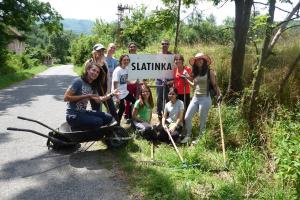 Description: The Slatinka Association was established in 1993 as a reaction to the construction of the Slatinka water dam on the Slatina River. The associations mission is to work at the basin of the Slatina River, to protect the environment and preserve natural areas while spreading consciousness of the projects effects on nature. One of their main aims is to bring life back to the village of Slatinka, since many people had to leave due to the dam construction. Workcamps like this one have been organized in Slatinka since 2011.
Type of Work: The work will be done around and in the village of Slatinka. The volunteers will help in the garden behind the Eco Center and with reparation of the building of the Eco Center. Cleaning the area in Slatinka, grass cutting, land-art along the riverside, planting flowers and bushes, helping at the park of Lanice, close to the town of Zvolen. The working hours are divided as follows: 4 hours in the morning and 2 hours in the afternoon.
Study Theme: The workcamp will have a rich environmental study part as the local partner is an ecologically-focused organization. Volunteers will learn about environmental protection efforts in Slovakia and all the issues related to the dam construction. Participants will also learn about the history of Slatinka and Zvolen. The workcamp will be visited by INEX Messenger who will organize a workshop focused on current issues in Europe. The volunteers will prepare the "Feast of cultures" - an international food festival for the local community, and will join the "volunteering footprint" workshop.
Accommodation: Volunteers will stay at a local school called the Eco Center. The center has an outdoor shower that requires participants to manually heat water before each shower, and the toilets are dry (outhouses). There will not be access to running water, so water will be delivered or taken from a well pump for showers. Drinkable water will be provided by local partner. On-site access to electricity is available. There are two bedrooms with mattresses, but a sleeping bag is required. Meals will be prepared by the volunteers themselves. The food will be mostly vegetarian.
Language: eng,
Requirements: Bring a sleeping bag and a mat, working clothes, warm clothes, raincoat, strong boots, swimming suit, headlamp and a smile on your lips :). You may also bring musical instruments and USB with your favourite songs from your country to share/play with the group.
Approximate Location: Slatinka is a little village near Zvolen located in the Central part of Slovakia. The village is surrounded by beautiful nature with many touristic routes and hiking opportunities. The volunteers may visit Zvolen, where they will find a castle, a historical center and other interesting sites.