Topic:
12: Art, culture and local history
Work Types:
Archaeology / Restoration, renovation
Free places for Females:
0
Free places last update:
16 Aug 2019
International age:
18 - 99
Extra fee to be paid in the hosting country:
0.00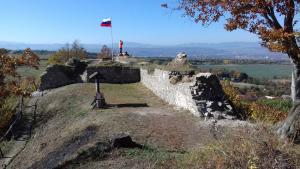 Description: The Civil Association Rakociho cesta carries the idea of a touristic path that would connect places related to the history of the Rakocis family tree. The aim of the movement is to preserve and renovate historical monuments and traditions. They would like to continue with the original Rakocis path goal which was to contribute to the development of the region. Rakociho cesta is currently involved in the renovation of the following castles: Saris, Kapusany, Sebes, Solnohrad (Salt Castle), Lipovce and Obisovce. The workcamps are organized with the association since 2008.
Type of Work: Revitalizing the old ruins of the Sebes Castle from 13th century, one of the smallest castles in Slovakia: renovation works, cleaning the area, help with masonry work with the traditional techniques, transport of the material like sand, rocks, and water. The volunteers will help to repair the fence for the goats which are cleaning area around castle from grass and scrubs. The volunteers will learn about castles in Eastern Slovakia. During the workcamp there will be a castle festival where volunteers will help with preparation.
Study Theme: The workcamp will be visited by INEX Messenger who will organize a workshop focused on current events in Europe. The volunteers will prepare the "Feast of cultures" - an international food festival for the local community, and will join the "volunteering footprint" workshop. Our camps will follow the rules of Sustainability campaign.
Accommodation: Volunteers will stay at a gym in a Cultural House in the village PodhradEk. Facilities, a fully equipped kitchen and hot water are provided in the house. The showers will be provided on the farm close to Cultural House. A sleeping bag and a mat are needed. Volunteers will be in charge of preparing the breakfast and the dinner. Lunch will be provided by the local partner. On demand, vegetarian meals can be provided.
Language: eng,
Requirements: Bring a sleeping bag and a mat, working clothes and gloves, warm clothes, raincoat, strong boots, swimming suit, insect repellent and a smile on your lips :). Also, if possible, music instruments and USB with your favourite songs and photos from your country.
Approximate Location: The meeting point will be at the bus stop next to the Cultural House in the village PodhradEk near Presov ( the 3rd biggest city in Slovakia located in the eastern part of the country. From Presov you can get by bus to the village PodhradEk (13 km) ( the place of the workcamp. The village is surrounded by beautiful nature with many touristic routes and hiking opportunities.