Topic:
12: Art, culture and local history
Work Types:
Archaeology / Restoration, renovation
Free places for Females:
0
Free places last update:
10 Aug 2019
International age:
18 - 99
Extra fee to be paid in the hosting country:
0.00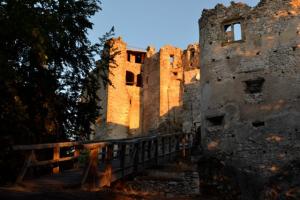 Description: The association Obcianske zdruenie Hrad Uhrovec was established in the year 2015 and since then their main goal is the reparation of the ruins and promoting the Uhrovec Castle. The association works as an information and promotional centre providing information about the Uhrovec Castle and the area where it is located.
Type of Work: Work will be aimed at help with renovation of the ruins of the Uhrovec castle from 13th century. The volunteers will help with archeological activities and they will learn about the castle s history. The volunteers will help with cleaning the area of the castle.
Study Theme: The workcamp will be visited by INEX Messenger who will organize a workshop focused on current issues in Europe. The volunteers will prepare the "Feast of cultures" - an international food festival for the local community and will join the "volunteering footprint" workshop. Our camps will follow the rules of Sustainability campaign.
Accommodation: The Uhrovec Castle is situated on the Strazovske vrchy. This is an unique possibility for volunteers to experience one week in beautiful surrouding of the castle without electricity and wifi signal, 2 km far from the civilization. Accommodation is in the tents in forest camping place. There is a possibility to sleep in the attic of the castle tower. The building has 2 floors; you need to climb upstairs using a wooden ladder. There is no heating and the nights are cold. Bring a warm sleeping bag and a mat. There is no electricity in the castle - only candles and torches (it is highly recommended to bring your own). A kitchen with a small camping gas cooker will be used for preparing meals. The volunteers will help with cooking. On demand, vegetarian meals can be provided.
Language: eng,
Requirements: Bring a warm sleeping bag and a mat (for little bit of extra comfort), working clothes and gloves, warm clothes, raincoat, strong boots, torch, and a smile on your lips :). You can also take musical instruments and something typical from your country that you would like to share with other volunteers and the local community.For more info about the project and the history of the castle please access: http://www.hraduhrovec.sk/
Approximate Location: The castle is located near the village Uhrovske Podhradie. The castle is surrounded by beautiful nature and with several possibilities for hiking.
Notes: HLC – Hard living conditions. The camp is for history and nature lovers and for those who are not afraid to accept the challenge of living in difficult conditions for one week surrounded by beautiful nature!