Topic:
9: People with disabilities
Work Types:
Work with people with disabilities
Free places for Females:
0
Free places last update:
07 Sep 2019
International age:
18 - 99
Extra fee to be paid in the hosting country:
0.00
Motivation letter:
This camp requires an additional motivation letter to explain in more detail why you would like to attend.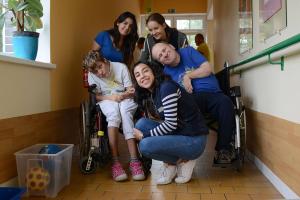 Description: Social centre Integra provides care for their clients ( young people and adults with heavy mental and physical disabilities and in lots of cases also for people with inhibited senses. Most of the clients are on wheelchairs and are visiting the centre on daily, weekly or annual bases. The volunteers in the centre are breaking down the routine of the clients and employees. The workcamps have been organized together with Integra since 2005. The clients are looking forward to the workcamp and meeting the volunteers.
Type of Work: The volunteers will organize free time activities (e.g. workshops, trips to the lake, games, sport activities, etc.) for people with mental and physical disabilities. The activities for them will be creative, musical, rhythmic, sport or other workshops. The ideas for the activities are invented and created by the volunteers who want to help with social integration. The camp is THE event of the year in the life of youngsters and adults with disabilities and the whole Integra centre.
Study Theme: The workcamp will be visited by INEX Messenger who will organize a workshop focused on current events in Europe. The volunteers will prepare the "Feast of cultures" - an international food festival for the local community, and will join the "volunteering footprint" workshop. Our camps will follow the rules of Sustainability campaign.
Accommodation: Lodging will be provided directly in the building of the Integra centre. A sleeping bag is needed. Volunteers will be in charge of preparing breakfasts and dinners by themselves, lunch will be provided. On demand, vegetarian meals can be provided.
Language: eng,
Requirements: MOTIVATION LETTER IS NEEDED. Bring a sleeping bag, a swimming suit, some info, materials and pictures of your country, materials which you could use in your workshops, games, activities for clients, a musical instrument to play nice music, some ideas for games with the youngsters and adults, your enthusiasm and a smile on your face :).
Approximate Location: The capital of Slovakia ( Bratislava is situated in the south-western part of Slovakia next to the border of Austria and Hungary. It has a fascinating history and culture, a magnificent Old Town, a picturesque castle on a hill just above the city, and ( last but not least ( the night life has a lot to offer, too ;). Terminal: Airport, bus and train station in Bratislava. Meeting point: Integra centre Tylova 21, Bratislava, around 5 pm.