Boquen's community life and restoration in Brittany
Topic:
12: Art, culture and local history
Work Types:
Cultural heritage / Restoration, renovation
Number of places still available:
0
Free places last update:
05 Jul 2019
International age:
18 - 99
Required Language:
English
Child friendly camp
Yes (Minimum age: 5)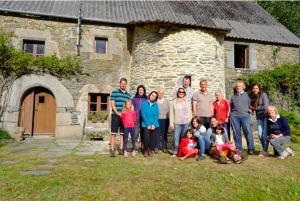 Description: The idea of the Poulancre House is to value the participation of everyone in all tasks, everyone participate. In a democratic and structured way, it is to allow the life of a group for a limited but intense time: a sober but convivial and festive daily life.
The Cultural Association of Boquen organizes meetings in various venues based on themes of society, concrete questions and preoccupations. It alternates with encounters that tackle subjects that allow each one to express a spiritual quest in the greatest openness.
From the most prosaic work to the many forms of artistic expression, manual activities play a role of self-discovery, of nature and of others.
Type of Work: Volunteers will help the local organization restore parts of the 16th century farm house. Volunteers will work on the exterior and interior of the building as well as the environmental grounds surrounding it. A.Wildow land around buildings, to clear a well and a bread oven and to plant tents. B. Building Restoration :
Exterior: masonry for catching stones from a well and a bread oven; 2.Interior: expand the library to accommodate new books.
Study Theme: The project aims to improve the historic artefact in the beautiful countryside to provide the local people with access to their heritage. Volunteers may also have the chance to conduct activities at lake Guerlédan, as well as explore the village of Breton and its culture like Breton music and particular features of Breton elements (menhirs, etc ...).
Accommodation: Volunteers will be accommodated in dorms within the house. The house contains one full functioning bathroom with hot water. Volunteers should bring their own WARM sleeping bags. Vegetarian meals are completely provided for, but there is no wifi at the house.
Requirements: The camps is family-friendly: Children are completely welcome to participate, however, they must be at least 5 years old. The camp is privileged for people of 30 years old. Please bring work gloves and working shoes!
Approximate Location: In the town on Poulancre d'en bas, in Saint-Mayeux (center of Brittany)
Organization Description: La branche française du mouvement, créée en 1936 et actuellement à Lille.