German-Kyrgyz Summer School (Berlin)
Topic:
11: Climate and sustainable lifestyle
Work Types:
Study, discussion, research
Number of places still available:
3
Free places last update:
08 Aug 2019
International age:
18 - 99
Extra fee to be paid in the hosting country:
0.00
Required Language:
English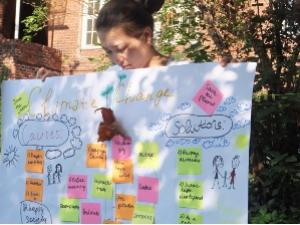 Description: The Summer School aims to promote the cooperation and intercultural understanding between SCI and our partners in Kyrgyzstan. During the training week in Berlin, participants get an introduction to SCI, and the opportunity to deepen knowledge and exchange ideas; views and experience on neighborhood and community management as well as the challenges that young people in Germany and Kyrgyzstan are facing. After this, participants divide up to take part in international workcamps (see notes below).
Type of Work: The program of the event will be divided into three parts:
Deepening & exchanging ideas & knowledge on the main topics (10.08. – 17.08 in Berlin).
Participation in a work or study camp in Germany of your preferred choice (see below in the Notes).
Evaluation and follow-up seminar (31.08 – 04.09 in Berlin)
Study Theme: • exchange of ideas and methods in promoting community services; • neighborhood and community management; • intercultural learning; • local and international initiatives on strengthening communities, neighborhoods and social groups; • organizing and mobilizing communities for a social change; • role of international voluntary service in promoting peace, mutual learning, social inclusion, and sustainable development.
Accommodation: The group will stay for the training week & for the evaluation in a seminar house with beds and a kitchen to cook.
Requirements: Strong interest in intercultural learning, sustainable development, and community management.
Notes: Your choice of workcamp: At the end of the opening seminar, the group will be divided and you will take part in an international workcamp (with physical work part) or study camp. Below, you should indicate your preference. We will try to place you on your first or second choice.
DE-SCI-01.10 Delitzsch 17.08 – 01.09
DE-SCI-01.26 Hamburg-Neuengamme 17.08 – 31.08
DE-SCI-01.37 Berlin-Schöneweide 18.08 – 01.09
DE-SCI-12.90 Gender and Art 17.08 – 31.08
DE-SCI-11.57 Berlin-Urban Space 17.08 – 30.08
You can find descriptions of each project on the SCI-Workcamp database
Organization Description: This workcamp is organized by the German branch of Service Civil International (SCI). SCI Germany was founded in 1946 and is approved as a non-profit organisation. We are one of the oldest peace and volunteer organisations. SCI Germany aims to promote peace, non-violence, international solidarity, social justice, sustainable development and cross-cultural exchange through international voluntary work. We cooperate with a network of branches and partners in more than 90 countries. Every year, SCI Germany organizes about 50 international workcamps in Germany.