In the Footsteps of a Refugee - from Copenhagen to
Topic:
12: Art, culture and local history
Work Types:
Study, discussion, research
Free places for Males:
10
Free places for Females:
10
Free places last update:
28 Jul 2019
International age:
18 - 29
Extra fee to be paid in the hosting country:
1400.00 Euro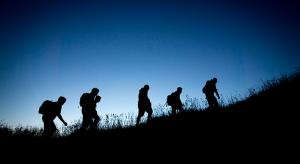 Description: MS Denmark has a long history of sending volunteers, doing work camps and global courses. We are part of ActionAid, and we fight against inequality by supporting marginalized people in fighting for their rights and organizing to break the structures which holds them back in poverty. We fight for the human rights of refugees in both Denmark and internationally.
Type of Work: Global Summer Camp: In the footsteps of a refugeeJoin us on a trip through Europe where we follow in the footsteps of refugees. We travel along the same route which many hundreds of thousands of refugees have been taken from Europes coast and outer borders through Balkan to Germany and Denmark. You will gain insight into how it is like to travel the long way, when we visit refugee camps on the Greek coast, travel by train through Balkan, cross borders in Eastern Europe and meet refugees on our way. We start in Copenhagen and move south through Europe until ending up on the Greek island of Lesbos. A moving summer camp We travel by train, bus and ferry through Europe. It gives you a sense of the long distances you have to overcome to get to Denmark from the Mediterranean over land.Some stages will be longer, and we will book us into night trains with couchettes or sleepers. We make stops on our way ( and gain new insightDuring our travel, we will stop at significant places and learn more about the conditions refugees live under, the policies regulating refugees lives, and how the influx of refugees is being managed in Europe. You will get new and thorough knowledge on migration and asylum policies in Europe, and witness the debate unfold in countries in very different political situations. And you can gain something from participating, no matter your previous experience and knowledge of the issue. We believe in the fact that we learn the most from the people we meet on our way. Travel route and program: The camp will begin in Copenhagen, DenmarkThe camp will begin with 3 days of introduction at MS Denmarks hostel in Copenhagen. Here you will meet your fellow travel companions, and we get to know each other through various teambuilding activities. The introduction in Copenhagen will consist of workshops with experts in international law and human rights, history of the refugee crisis, and trauma management in crisis situations. We also hear the testimony of a refugee who have been traveling the long way from home to Greece through Europe to Denmark. We will visit a center for asylum seekers in Denmark, and learn more about the Danish refugee and asylum policy. And then, we board the train and travel to Berlin, Germany Berlin: Hope, community and creativityGermany is one of the European countries which has taken many refugees, and the debate is ongoing. We meet with both sides. The ones who want to close the borders, and the ones who want to open up. Our first meet up in Berlin will be with a Syrian refugee taking us on an alternative guided tour to the city. Through the streets of Berlin, we are told the story of a refugee and at the same time we get to know Berlin through the eyes of a refugee. Berlin is always one step ahead, and vibrating with community and creativity. We seek inspiration when visiting just a few of the many projects using community and creativity when welcoming refugees and improving their situation: People sharing their fla
Accommodation: All accommodation during the 3 weeks is included in the extra fee.Breakfast is included all days, lunch and dinner on your own. Cities like Copenhagen, Berlin, Thessaloniki and Athens offer great possibilities for going out and trying local cuisine. This camp travels through Europe, so we are in more than one location.Accommodation by location in short: Copenhagen, Denmark: We will stay at Globalhagen, hostel of MS DenmarkBerlin, Germany: We will stay in a backpacker hostel in Berlin Border Hungary/Serbia: To be announcedThessaloniki, Greece: We stay in shared apartments Athens, Greece: We stay in a hostel in downtown Athens Lesbos, Greece: Flats or guest house
Language: eng,
Requirements: -
Approximate Location: This camp travels through Europe, so we are in more than one location. This is the route in short: Copenhagen, Denmark: 3 daysBerlin, Germany: 4 daysBorder Hungary/Serbia: 3 daysThessaloniki, Greece: 2 daysAthens, Greece: 2 daysLesbos, Greece: 4 daysLeisure: Traveling by train gives us time to get to know each other. Please bring game cards and musical instruments, or your favorite song for singing when passing through the changing landscapes.The program is packed with exciting visits on our way through Europe, but you also have time for exploring the cities we visit on your own. Experience the historical monuments in Berlin, or have a great evening at one of the towns many venues, have dinner at a local restaurant, or stroll through the narrow, antique alleys in Athens, before we end our journey at the once so idyllic holiday island Lesbos.