Camp code:
NL-SIW 10.1901
Topic:
10: Environment protection
Free places for Females:
0
Free places last update:
19 Jul 2019
International age:
18 - 99
Extra fee to be paid in the hosting country:
25.00 Euro
Breakdown:
Accommodation and food: 0.00 Euro
Transportation: 0.00 Euro
Activities: 0.00 Euro
Hosting organisation support: 25 Euro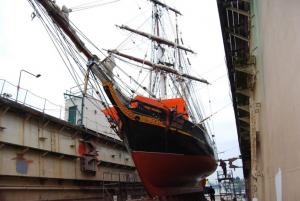 Description: Our partner, Fairtransport Shipping and Trading, is situated in Den Helder at the most northern point of the province of Noord-Holland, which is surrounded by water on the north and west side. In 2007, three friends began a shipping company here. They wanted to create the worlds first modern emission free shipping company, based in the Netherlands. The prime goal of Fairtransport is to sail cargo in an emission-free way. They try to focus on special products, such as olive oil, wine and rum, which are produced or crafted in a traditional manner. By setting up this company they wanted to raise awareness about the huge amounts of pollution that is created by the modern shipping industry and to impact the way in which goods are transported around the world in a positive way.
Type of Work: This project is specially put together for the rough and the tough. In cooperation with volunteers of Fairtransport, the participants will work on the maintenance of the 32-meter schooner sailing ship Tres Hombres. This type of ship was first used in the early 20th century. During the maintenance, we use tar which gives a persistent smell that the volunteers will carry with them. The work for this project will be hard and the volunteers should expect long working days. However, in the end it will all be worth it because the volunteers are given the opportunity to work on a secular ship and imagine themselves to be part of the Dutch Golden Age.
Accommodation: Volunteers will stay in basic accommodation near the Fairtransport grounds. Participants need to bring their own sleeping bags.
Language: eng,
Requirements: - Motivation letter U - At least an intermediate level of English U - Safety boots (Obligatory) Every person working on the ship is required to wear them, therefore you will NOT be allowed to work on the ship when you fail to take them with you U - Old/working clothes - Sleeping bag U- Towel, bathing/suit U - Rubber boots U - High top sneakers U - Rain is spread out over the year, so bring warm clothes
Approximate Location: Together with the camp leaders the volunteers will discuss the recreational program. Den Helder historically is home to the countrys main naval base and, additionally, it has a beautiful dune landscape with low dune tops, a dune lake, dune valleys and forests, which form an ideal environment for special plants and birds. Leisure time will also be spent on the general theme Connecting with the local community.