Camp code:
NL-SIW 12.1903
Topic:
12: Art, culture and local history
Free places for Females:
0
Free places last update:
30 Aug 2019
International age:
18 - 99
Extra fee to be paid in the hosting country:
25.00 Euro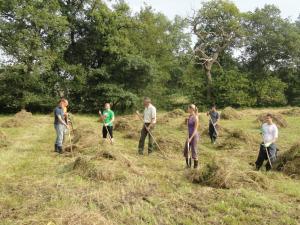 Description: The Drentsche Aa area is a varied old cultural landscape, shaped by age old interplay of agriculture and nature. The Drentsche Aa is also the name of the stream that meanders through this area and creates a typical landscape that is declared National Park. It includes 16 authentic villages. The partner in this project is the Dutch State Forestry, commissioned by the Dutch government to manage a large part of the nature reserves in the Netherlands. In 2019 it will be the 12th anniversary of this project in Oudemolen, so project Oudemolen is almost part of the regions collective memory. This certainly counts for the locals residents who have shown a lot of interest in the volunteers and, in some or another way, will always be involved in the project. Volunteers can count on a warm welcome.
Type of Work: The participants will do different activities of nature protection like cutting, dredging, pilling up the paths, haymaking and light construction work. You will also work together with other local people who do voluntary nature work. The local rangers are very supportive and looking forward to host you in their beautiful area. The Drentsche Aa has been nominated most beautiful landscape of the Netherlands.
Accommodation: Volunteers are expected to bring their own tent, airbed or matrass and sleeping bag. You will stay at the beautiful situated private campsite of the State Forestry location Oudemolen. The group will cook for themselves in a barn that is equipped with all cooking facilities. There is one shower and one toilet. Bicycles will we provided, this will be your transportation to the various worksites.
Language: eng,
Requirements: Tent, an airbed/mat and sleeping bag Old/working clothesHigh top sneakers (needed for mud walking)Rubber boots (working fields can be very muddy)Rain is spread out over the year, so bring warm clothes, a raincoat and a swimming suit
Approximate Location: Of course, the camp leaders and partner organization will encourage the volunteers to put forward their own ideas for a recreational program, but in this project it is a tradition that activities are being suggested and/or organised by State Forestry, e.g. a mudwalking tour on the bottom of the Wadden area; a Unesco World Heritage Site because of the worlds largest area of intertidal sand and mudflats. A unique experience Other activities during the week can be swimming, bicycling, visiting the flourishing city of Groningen or the Westerbork transit camp (where Anne Frank was prisoned). Leisure time will also be spent on the general theme Connecting with the local community.