Living and Working in Nature (Middelburg near Lübeck)
Topic:
10: Environment protection
Work Types:
Agriculture / Restoration, renovation / Study, discussion, research
Number of places still available:
0
Free places last update:
18 Jun 2019
International age:
18 - 99
Required Language:
English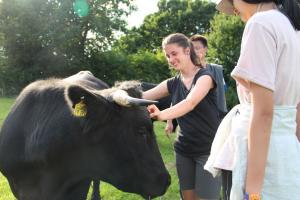 Description: Environmental work with lake and garden cutter, working with wood surrounded by a beautiful lake and nature, there is the thatched-roof farm of the Teich family, which serves as the base for the work camp. Work for nature in a beautiful environment and learn more about working with wood. The farm is currently under renovation and will be inhabited after completion, as well as serve a variety of cultural purposes. Many old fruit trees have been planted on the adjacent, protected natural areas, and hay for horses is harvested. In the vegetable garden, fruits, vegetables, and herbs are grown organically. The small town Middelburg lies between the Baltic Sea (6 km) and the historic castle town of Eutin (6 km), which are easily accessible by bus.
Type of Work: In coordination with the nature conservation authority, various work is carried out in the field of landscape management:
Care of poor meadows by digging out of ragwort (this plant has grown in widespread in recent years and displaces other plants);
Exposure of bushy green areas for breeding birds;
Depending on the weather, hay harvest with horses and tractor;
Building wooden fences and gates;
Building a shed for firewood;
Help with the grain harvest on the organic farm of the family Schimmel (depending on the weather);
(Work by hand as 100 years ago).
Study Theme: Protected species and habitats - explore flora and fauna, on land and water (canoes). Handling horses according to the horsemanship method. Visit the neighboring cattle farm (Highland cattle). Get to know a nature-related way of life and work (especially on the organic farm of the Family mold). There, bread is baked, cheese and honey are made. There is no car and no TV. All work is done by hand or with horses.
Accommodation: Overnight in tents (tents are provided!), in bad weather in the house. Catering: cooking together, vegetarian only.
Requirements: Enjoy working in nature, interest in nature conservation and healthy nutrition. Interest in working with wood, interest in interaction in the group.
Notes: Bring along a sleeping bag, mattress and bathing suit, work shoes - a piano and a guitar are available in the house; own instruments as well as ideas and materials for leisure activities of the group can be brought along!
Organization Description: This workcamp is organized by the German branch of Service Civil International (SCI). SCI Germany was founded in 1946 and is approved as a non-profit organisation. We are one of the oldest peace and volunteer organisations. SCI Germany aims to promote peace, non-violence, international solidarity, social justice, sustainable development and cross-cultural exchange through international voluntary work. We cooperate with a network of branches and partners in more than 90 countries. Every year, SCI Germany organizes about 50 international workcamps in Germany.