Art and local culture in Monterosso, Sicily
Topic:
12: Art, culture and local history
Work Types:
Art / Cultural heritage
Free places for Females:
0
Free places last update:
03 Jun 2019
International age:
18 - 99
Required Language:
English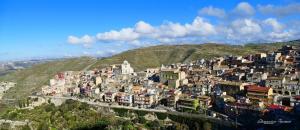 Description: Since the 1970s ARCI association "25 APRIL" has carried out multiple activities and events in the cultural and environmental field – creation of Radio Icar 23, theatre and cinema forums, exhibitions and organization of bike tours in the mountains, international ski camps and youth exchanges. The workcamp will support the project 'Coloriamo Monterosso' which aims to design and paint wall murals in order to bring life to the old tradition of rural Monterosso. The association will work in collaboration with the municipality of Monterosso Almo, the artistic school and the ethno-anthropological museum of Modica and a team of local volunteers with graphic and artistic skills that together with the volunteers will identify the pictorial techniques, language and topics of the wall paintings.
Type of Work: The work of the volunteers will consist in supporting the local team in designing and painting the wall murals (4x3 metres). The work is not heavy and it will not exceed 6 hours per day.
Study Theme: In order to present the local rural culture, a guided visit of the ethno - anthropological museum of Modica will be planned, where the volunteers will have the opportunity to see examples of typical old rural constructions built with traditional materials and tools. A team of experts will introduce the volunteers to the local cultural context in order to make a link between the historical rural traditions of the region and the meaning of the contemporary artwork - the wall murals.
Accommodation: The volunteers will be accommodated in a building of the Municipality of Monterosso Almo. They will stay in double, ttriple or quadruple rooms, that are equipped with beds and mattresses. However, the volunteers should bring their own sleeping bags and towels! There will be several bathrooms with showers and hot water as well as a fully-equipped kitchen and dining room. There is free WiFi. Breakfast, lunch and dinner are going to take place in the offices of the association.
Requirements: Ability to work in a group. Creativity and interest in designing and painting.
Approximate Location: The workcamp will take place in the open spaces of the municipality of Monterosso Almo (RG), a village that is 25 km away from Capoluogo (Ragusa), Sicily.
Notes: The workcamp's activities will be carried out in the center of Monterosso where the volunteers will have access to ATMs and free WiFi network. There are several opportunities for the free time - walking in the surrounding forests, guided tours in the historical center, social events with the members of the association. It is recommended to bring work shoes for trekking, lightweight clothes and a swimsuit.