Camp code:
JP-NIC 12.190803
Topic:
12: Art, culture and local history
Work Types:
Agriculture / Festival / Cultural heritage
Free places for Females:
0
Free places last update:
17 Aug 2019
International age:
18 - 99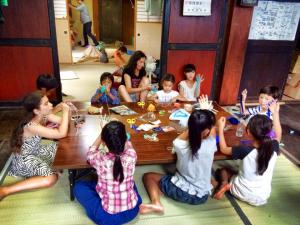 Description: NICE have been organized together with Ohara Eco Project (OEP) and Katsuyama city government since 2009. There were 600 inhabitants in Ohara village with 90 houses, but now only 1 elder OEP was founded by the Foresters cooperative and local people in 2006 and have rehabilitated 7 houses of cultural heritage. Depopulation problem is serious in most of mountain parts in Japan. Many fields and forests are abandoned, so we will try to improve the situation by voluntary power
Type of Work: Volunteer will do various work to activate this village and preserve their culture and nature. Main work are 1) help to renovate the old traditional house by carrying the stuff, changing the floor, etc., 2) do other work for the community (e.g., reviving the abandon fields, chopping the fire woods, maintaining forest paths) and 3) supporting the local festival in the village (e.g., making paper lanterns). And do some other work for the community.
Accommodation: Renovated house (Japanese traditional house). Simple shower room. Clean toilet. You don t need to bring your sleeping bag. Volunteers sometime prepare the meals by themselves and sometime the meals will be provided. Wi-Fi are not connected basically.
Language: eng,
Requirements: High motivation to work hard and simple mountain life in the isolated area and respect to the local culture and way of the local organization Speaking Japanese language is welcomed
Approximate Location: About 200 km north east of Osaka. Katsuyama is an agricultural city and famous for dinosaurs discovery. Ohara village is located at 500 a.s.l. , an