Camp code:
JP-NIC 5.190818
Topic:
5: Poverty and social injustice
Work Types:
Work with children / Social
Free places for Females:
1
Free places last update:
26 Aug 2019
International age:
18 - 99
Extra fee to be paid in the hosting country: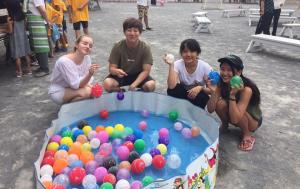 Description: This workcamp has been organized with Happy Kids Team (HKT) in NICE and Kamakura Children Home (KCH) since 2004. HKT was started in 2004 since child abuse was getting more serious (5,000 cases were reported in 1997 and 120,000 cases were done in 2016). They used to organize various actions, but now focus on only KCH by organizing the weekend workcamps every month and international ones once a year. KCH accommodates 80 children aged 2-18, who lives in the smaller units of 10 children. They cannot live with their families by various reasons, but many cases are by abuse. The workcamps have been creating great impact to empower their hopes and confidence, to grow friendship and personality and to support the staff members.
Type of Work: Volunteers will work in KCH mainly to prepare/ run/ clean up their bon dance festival on Aug. 25 especially constructing the stage (where Volunteers and others will show performance during the festival) and running the shops. Volunteers will also do some other things like playing with the children in the playground, a dinner with a few elder children, etc.
Accommodation: Possibly, a room in the residential building for staff members of KCH. Meals (besides lunch) will be cooked by volunteers by turns. Sleeping bag is necessary.
Language: eng,
Requirements: High motivation to work with the children with special background. Similar type of experience is welcome Motivation letter is needed Vols. need to be ready that the main work will be construction and playing with the kids.
Approximate Location: 30 km from Yokohama. Kamakura is an old capital city of Japan in the 13th-15th centuries and popular tourism spot with a lot of attractions like old temples, green hills and a beach.